Follow me on Facebook, Twitter & Instagram!
In this Update:
Survey Question
Veteran's Appreciation Breakfast
Prisoner of War (POW) Jessica Lynch
Welcome Home Officer Santiago
Attention All Fire & Municipal Officials
FREE License Plate Replacement Event
Teletown Hall Meeting
Mobile Office Hours
Senate Votes to Streamline and Increase School Safety Measures
PA Voters Get Greater Say with Senate Bill
Tax Seminars Held Virtually and Across PA
Grants Available to Increase Economic Benefits Boaters Offer PA Communities
---
Survey Question
The Pennsylvania Department of Transportation (PennDOT) announced that according to their department's data, fatalities, injuries, and crashes decreased overall after intersections at 39 locations were replaced with 42 roundabouts. Although roundabouts are frequently installed to address intersections with safety issues, they are also commonly installed to improve traffic flow or for other reasons such as traffic calming. From your experience, do you feel as if roundabouts are the solutions to improve traffic flow? Click here to take my survey.
Veteran's Appreciation Breakfast
I am excited to announce that I will be hosting my 1st Veteran's Appreciation Breakfast as Senator, on Saturday November 4! Our commonwealth is home to one of the largest veteran populations in the nation, and because of this, we have an obligation to honor their service and contributions. So let us serve you. Veterans are invited to enjoy a morning of fellowship, appreciation, and information gathering from community resources. Interested in attending? RSVP here.
Prisoner of War (POW) Jessica Lynch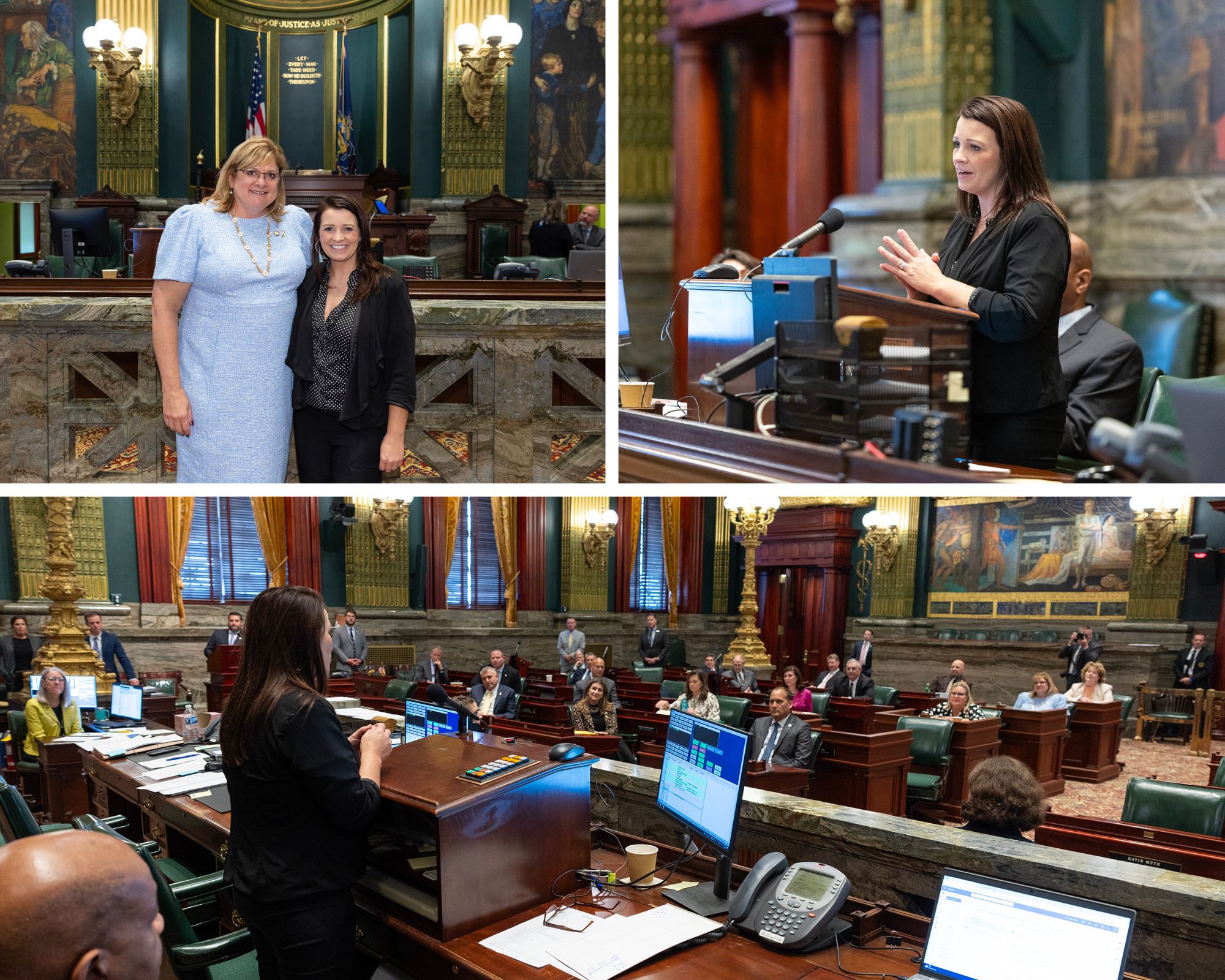 It was an incredible honor to recognize and welcome former Prisoner of War and Army Private First-Class Jessica Lynch, to the Senate Floor. Jessica was captured and held prisoner by Iraqi forces in 2003 after her unit was ambushed, leaving her severely injured. After nine long days a special force rescue mission was launched to rescue her. That day, Jessica became the first American Prisoner of War to be rescued successfully since WWII. My colleague, Senator Devlin Robinson, was present in Jessica's rescue and we are so grateful to have them both here today. You can find her introduction to the Senate floor here.
Welcome Home Officer Santiago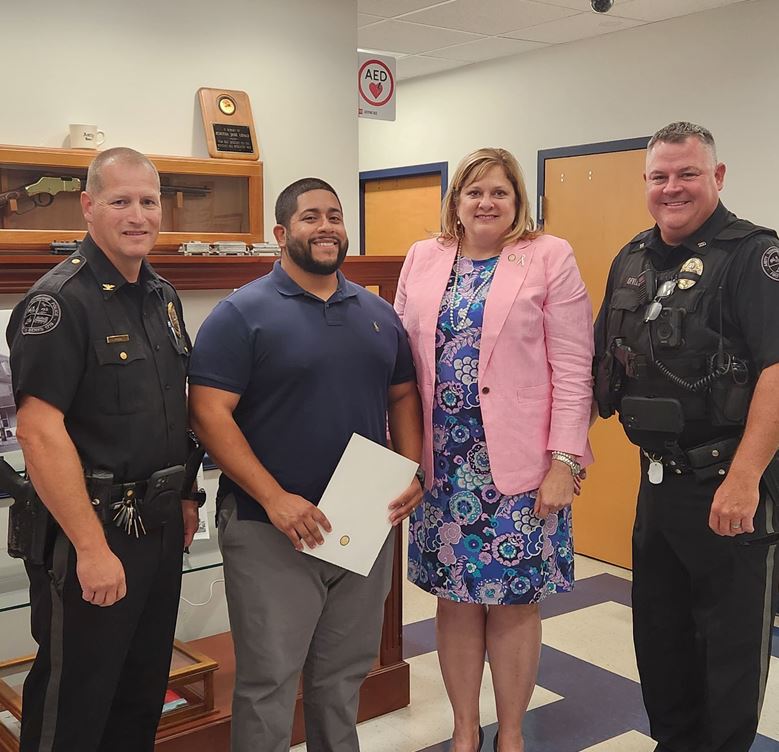 It was an honor to present officer Fernando Santiago from the Amity Township Police Department a certificate to thank him for his service and welcome him home from deployment! Officer Santiago has been with the Amity Township Police Department since April 2017. He has been a reservist with the Department of the Army, assigned to the 412th Theater Engineer Command (333rd Engineer Company Reading, Pennsylvania). He is currently ranked E4 Specialist. In April 2022, Officer Santiago was deployed as part of Operation Enduring Freedom. We are so grateful for his valor, sacrifice, and service.
Attention All Fire & Municipal Officials
It is my honor to be welcoming our newly appointed Fire Commissioner, Thomas Cook, to the 24th Senate District on Wednesday, September 27. As part of his visit, I will be hosting two Meet & Greets.
Wednesday, September 27 from 3:00 – 4:30 PM
Eastern Berks Fire Department Station 3 – Bechtelsville
1817 N. Main Street, Bechtelsville, PA 19505
Wednesday, September 27 from 5:30 – 7:00 PM
Perkiomen Township Fire Company
485 Gravel Pike, Collegeville, PA 19426
This Meet and Greet will not only be an opportunity to meet our new Fire Commissioner, but an opportunity to hear an up-to-date overview of the office and future goals. Should you have any questions or need additional assistance, please contact my office at 215-541-2388. Hope to see you there!
FREE License Plate Replacement Event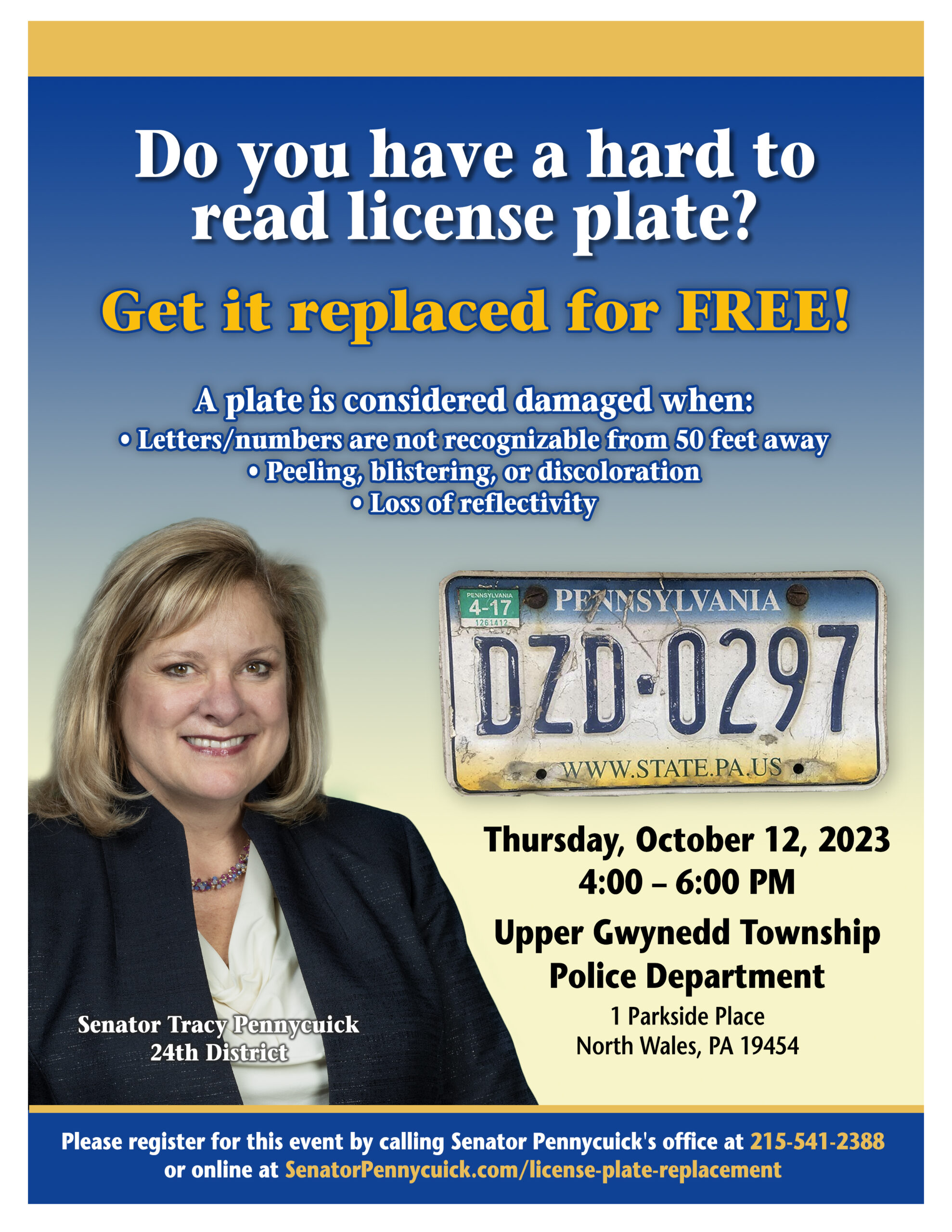 I will be hosting a License Plate Replacement event on Thursday, October 12 from 4:00pm to 6:00pm at Upper Gwynedd Township Police Department. Need a new license plate? Register NOW!
Teletown Hall Meeting
Please join me for my upcoming Tele-Town Hall meeting on Tuesday, October 24 at 6:00pm. This is a great opportunity to discuss state-related issues and voice your opinions on public issues right from the comfort of your own home. I look forward to connecting with you! Register NOW!
Mobile Office Hours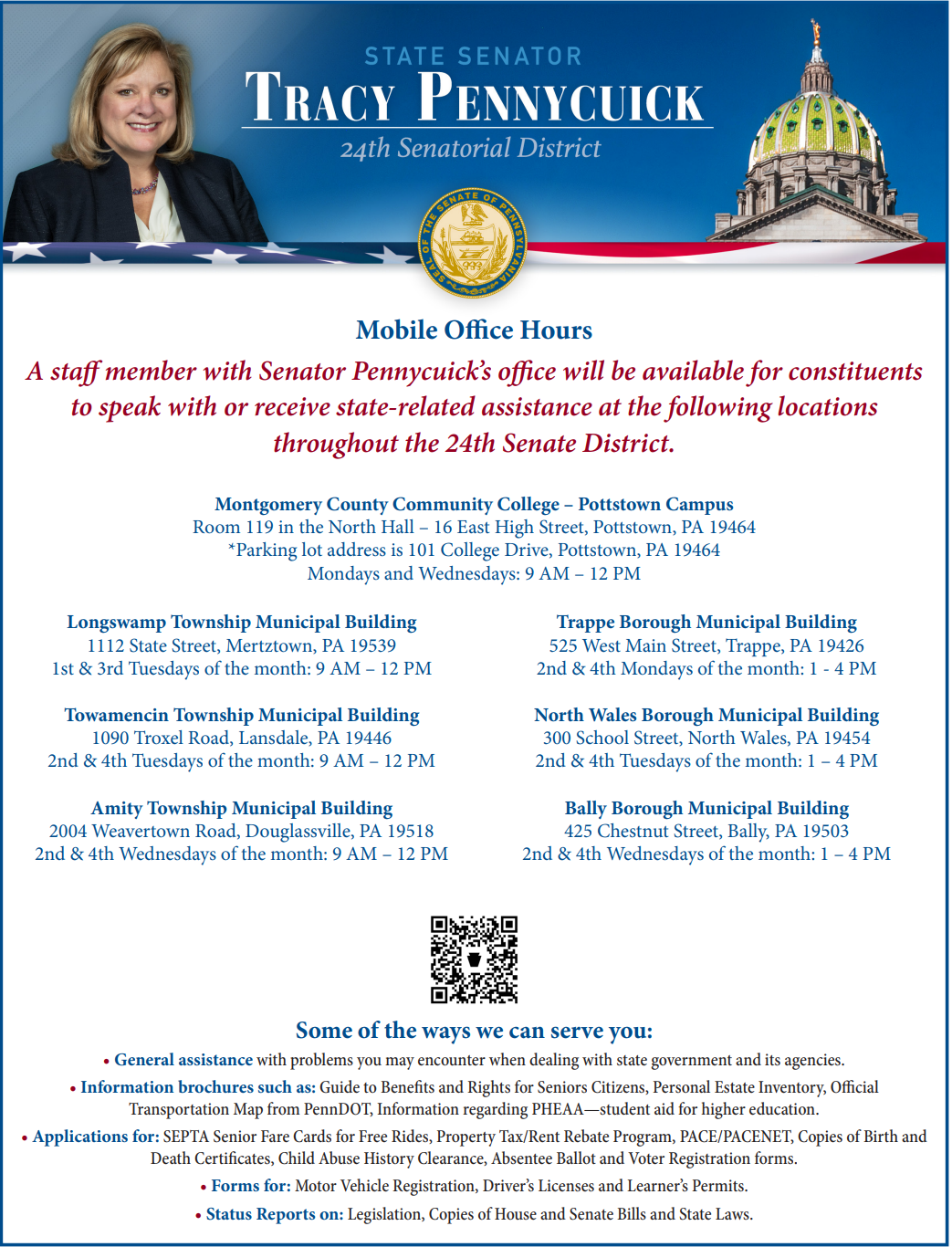 Senate Votes to Streamline and Increase School Safety Measures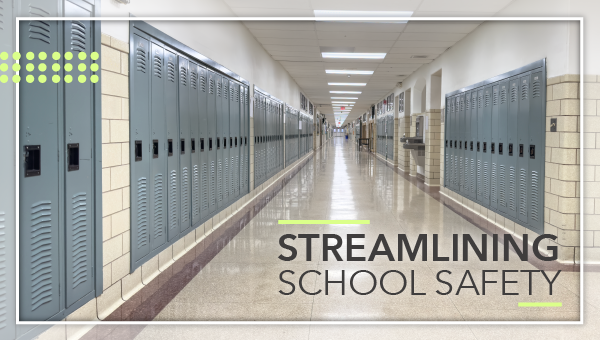 The Senate passed House Bill 27 to more effectively keep Pennsylvania children safe at school by streamlining and increasing school safety measures.
House Bill 27 would consolidate school safety programs and operations under the Pennsylvania Commission on Crime and Delinquency (PCCD) and create a new Executive Committee under PCCD to review school safety issues and to identify current and emerging trends.
The bill would also ensure schools and counties can develop best practices for emergency response by developing a safe schools collaborative, release $100 million that was included in the 2023-24 state budget for K-12 mental health programs and provide greater flexibility for school districts experiencing shortages of substitute teachers. Read More
PA Voters Get Greater Say with Senate Bill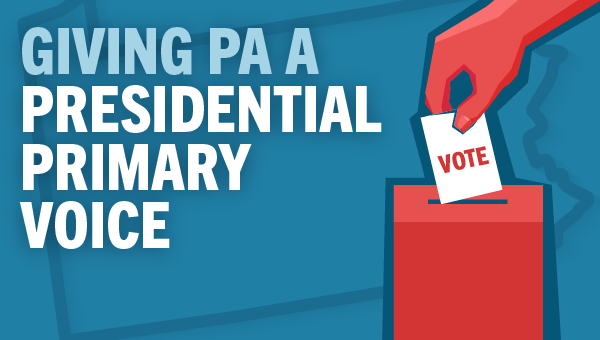 The Senate passed a bill that would give Pennsylvania voters a significant say in presidential elections by moving up the primary election date.
In many presidential elections, the outcome is largely decided before Pennsylvania voters have a chance to cast a ballot. Moving up the spring election date gives voters in the fifth-largest state a better chance of weighing in on the presidential primary.
Currently, the primary takes place on the fourth Tuesday of April. Senate Bill 224 would move the primary to the third Tuesday in March, making the next presidential primary election date March 19, 2024. The change would also prevent a conflict with Passover, during which observant Jewish Pennsylvanians are prohibited from writing, driving or using electricity.
Tax Seminars Held Virtually and Across PA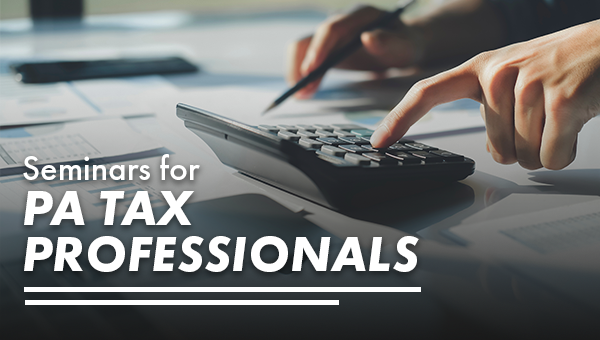 Tax professionals can learn about changes to state tax laws and policies during one-day seminars offered by the Pennsylvania Department of Revenue held across the state and virtually.
The tax seminars will educate tax professionals on Personal Income Tax, sales tax corporate taxes, compliance initiatives and using the department's website to establish tax accounts for new businesses, file tax returns and pay state taxes.
Find a local or virtual seminar here.
Grants Available to Increase Economic Benefits Boaters Offer PA Communities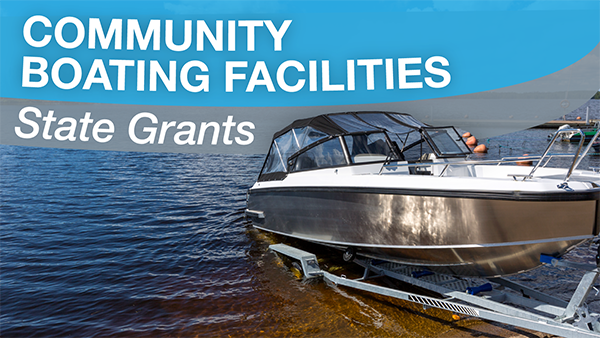 Communities can apply now for grants to enhance the economic and social benefits of providing convenient boating access along their waterways. Townships, boroughs, municipal and county governments, and nonprofit groups may apply. Private businesses and service clubs are not eligible.
Applicants can seek grants for site acquisition, development, expansion, prevention of the spread of aquatic invasive species and rehabilitation of recreational boat access facilities. Eligible construction projects may include boat ramps, courtesy floats, restrooms, access roads, parking areas and signs. Funds may also be used to make facilities ADA compliant.
While the Pennsylvania Fish and Boat Commission will accept applications from anywhere in the commonwealth, special consideration will be given to projects that provide public boating access in the Delaware River watershed. Learn more or apply online by Dec. 30.