In this Update:
Survey Question – Artificial Intelligence
Childhood Cancer Awareness Month
Senate Committee Approves Bills to Boost Online Safety
Senate Approves Bill Eliminating Regulation that Denies Patients Access to Information about Laboratory Services
Senior Expo 2023
FREE License Plate Replacement Event
Teletown Hall Meeting
Mobile Office Hours
FEMA and FCC Plan Nationwide Emergency Alert Test for Oct. 4, 2023
Stronger Rainy Day Fund Improves PA's Financial Position
Revenue Collections Below Monthly Estimate
Preparing for Election Day
Free Support Available to Military Members
Fire, Ambulance Companies: Apply Now for State Grants
---
Survey Question – Artificial Intelligence
Artificial Intelligence (AI) has become the new tech buzzword. While this technology has been in development for decades, the advent of popular generative AI platforms, like ChatGPT, has thrusted this technology into the spotlight. As a result, millions of Americans now utilize these platforms. Have you used a generative AI application? Click here to take my survey.
Childhood Cancer Awareness Month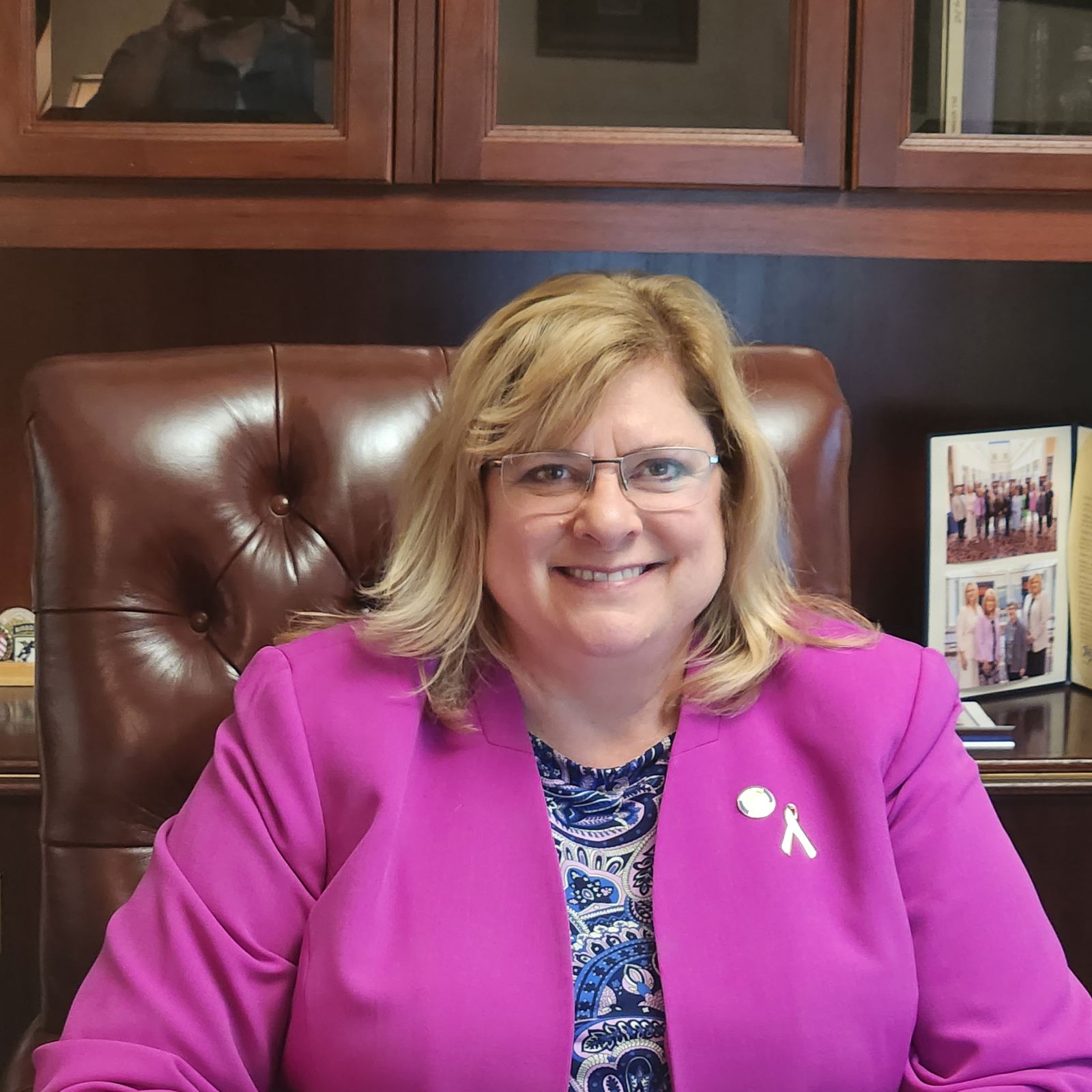 September is Childhood Cancer Awareness Month. I am honored to wear this beautiful gold pin given to me by my colleague, Senator Scott Martin, in honor of those with pediatric cancer and in memory of children that have lost their battle with cancer.
With a goal to increase awareness and raise funds for those affected by childhood cancer, the American Childhood Cancer Organization encourages everyone to Go Gold® during September.
Senate Committee Approves Bills to Boost Online Safety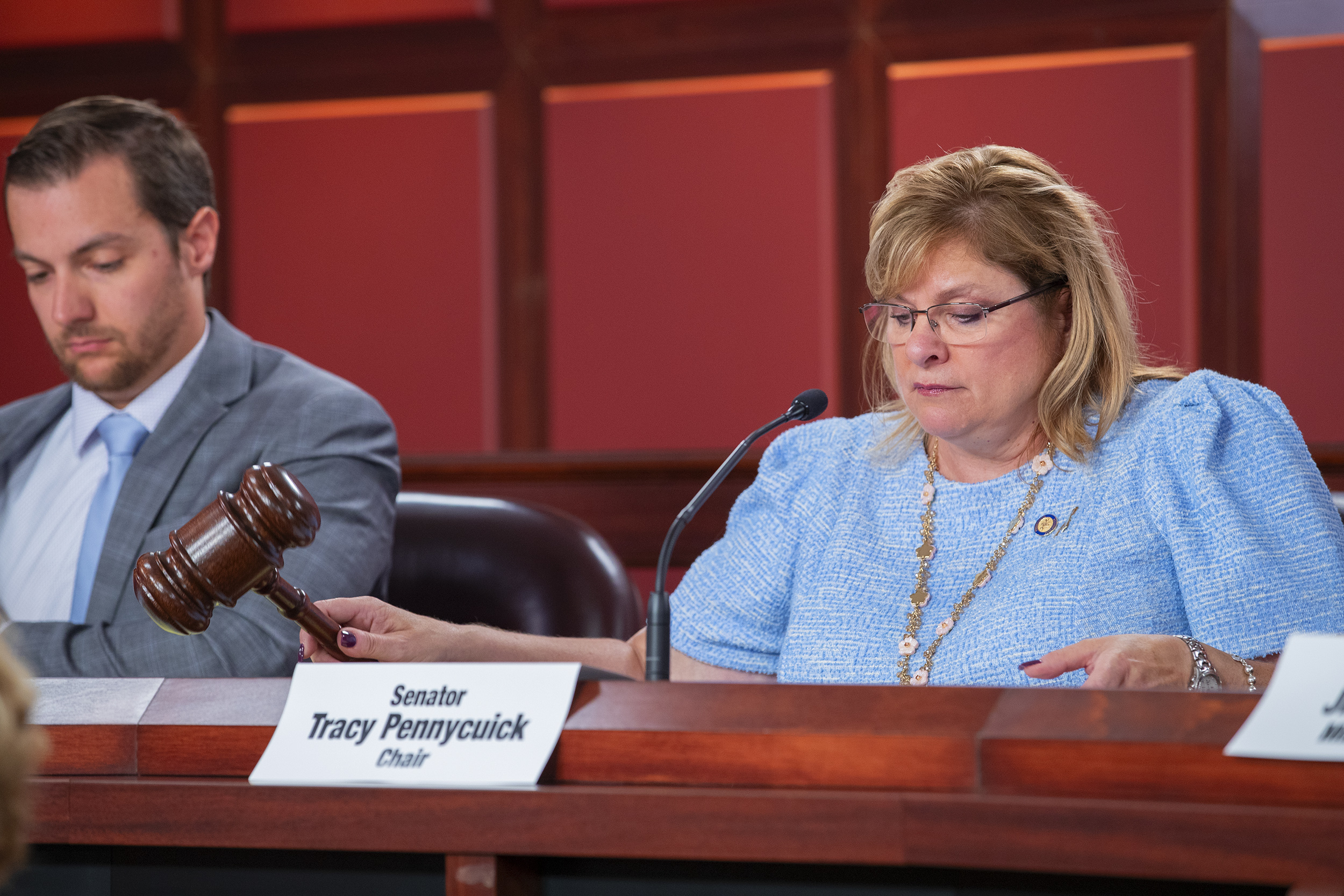 The Senate Communications and Technology Committee, chaired by myself, unanimously approved three bills aimed at boosting safety online.
Among the measures was Senate Bill 824, introduced by Senator Jimmy Dillon (D-5) and myself, to provide affected citizens of a data breach a free credit report and twelve months of credit monitoring while they recover. The bill also strengthens state notification requirements and requires Attorney General notification if a data breach occurs in the Commonwealth.
Having your sensitive information stolen in a data breach is an unfortunate reality and is happening with ever increasing frequency. If an individual falls victim to a data breach, they should have the tools necessary to ensure that criminals are not utilizing their information to perpetrate financial crimes. This bill is a commonsense measure that will help to provide security and peace of mind to victims.
Senate Bill 22 was also approved by the committee and would implement new protections for minors on social media platforms. The bill includes requirements for parental consent from a parent or legal guardian for anyone under 16 to open a social media account and prohibitions on certain data mining of minors.
The panel also approved Senate Bill 745, which would require all state government contracts for computer hardware to meet National Institute of Standards and Technology standards and best practices for computer security.
The bills now move to the full Senate for consideration.
Senate Approves Bill Eliminating Regulation that Denies Patients Access to Information about Laboratory Services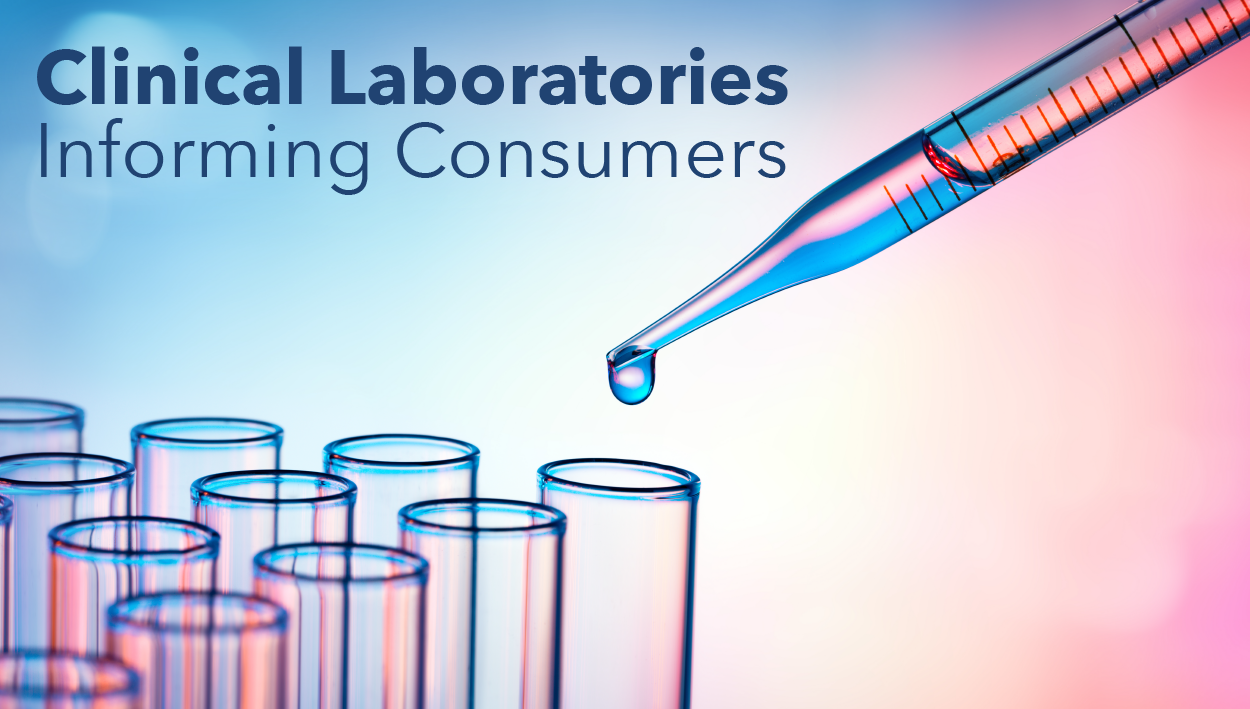 The Senate has passed a bill sponsored by myself, Senator Rosemary Brown and Senator Lynda Culver, that would eliminate regulations preventing patients from learning about diagnostic testing and services provided by local clinical laboratories.
It's time for Pennsylvania to catch up with the rest of the nation and enable patients to have access to this information. This bill will enable advertising while maintaining the important consumer protection provisions that ensure tests and procedures can only be performed based on a doctor's order.
I am pleased to work with Senators Brown and Culver on this bill and I hope that the House of Representatives will consideration this legislation when they return to session.
Senior Expo 2023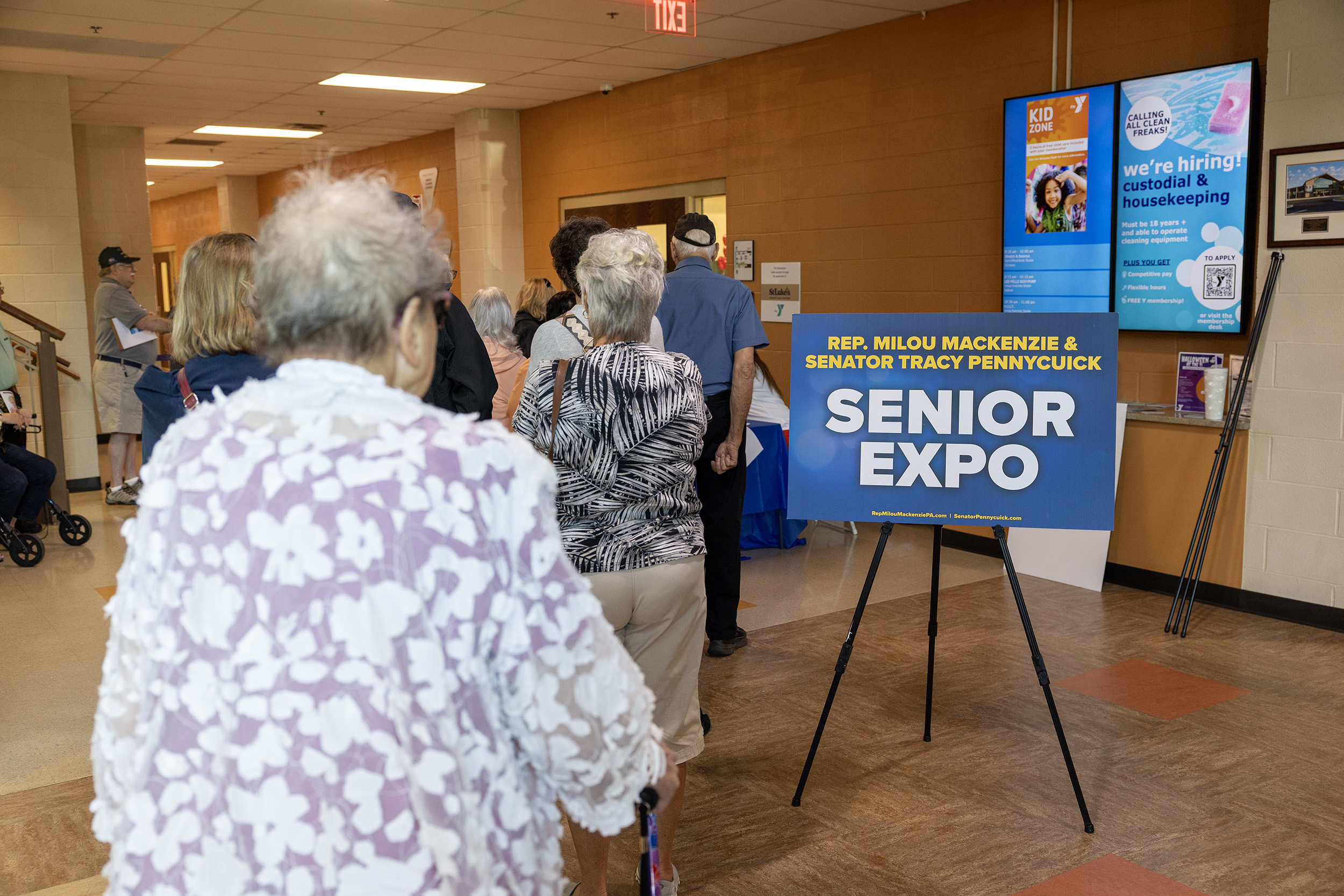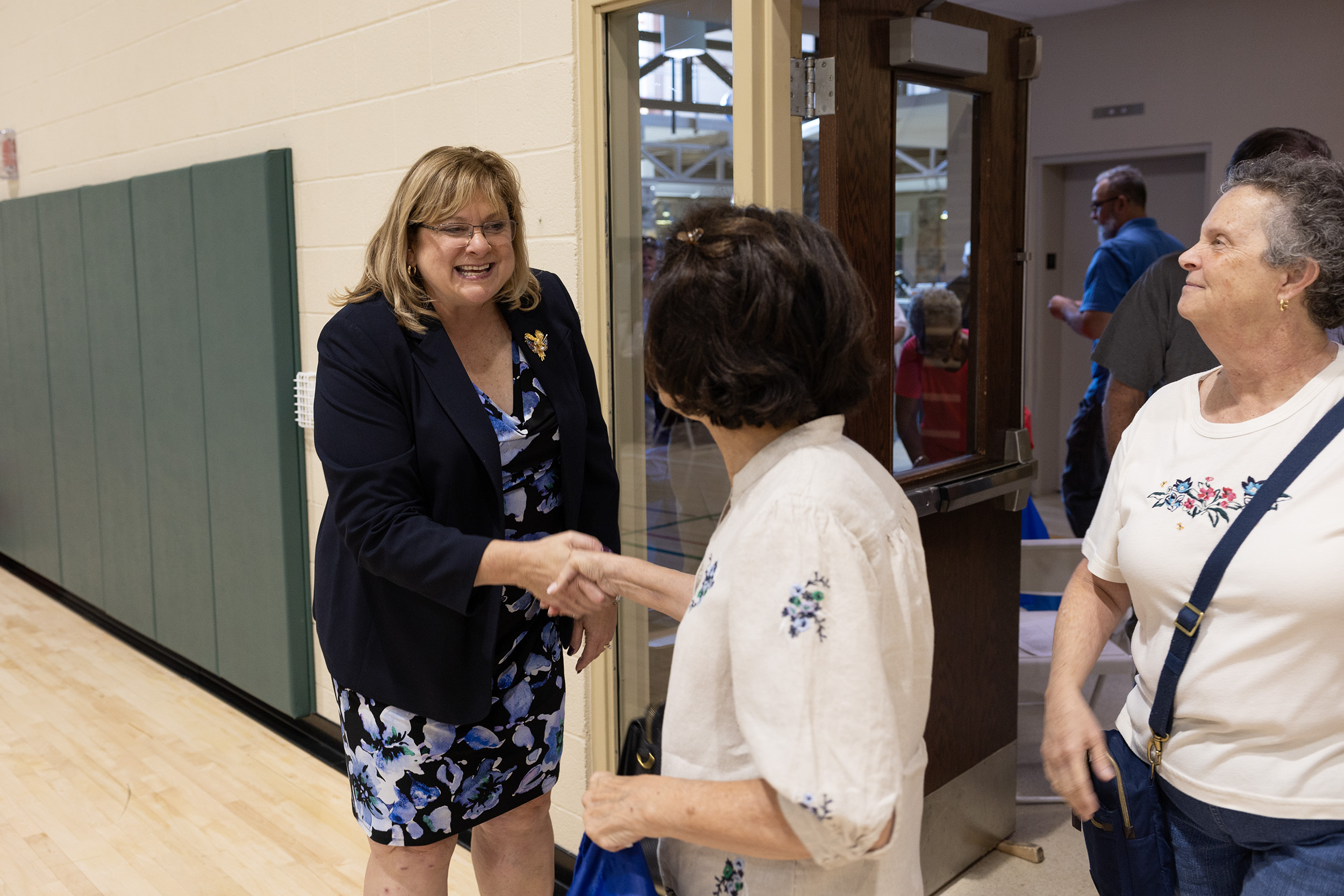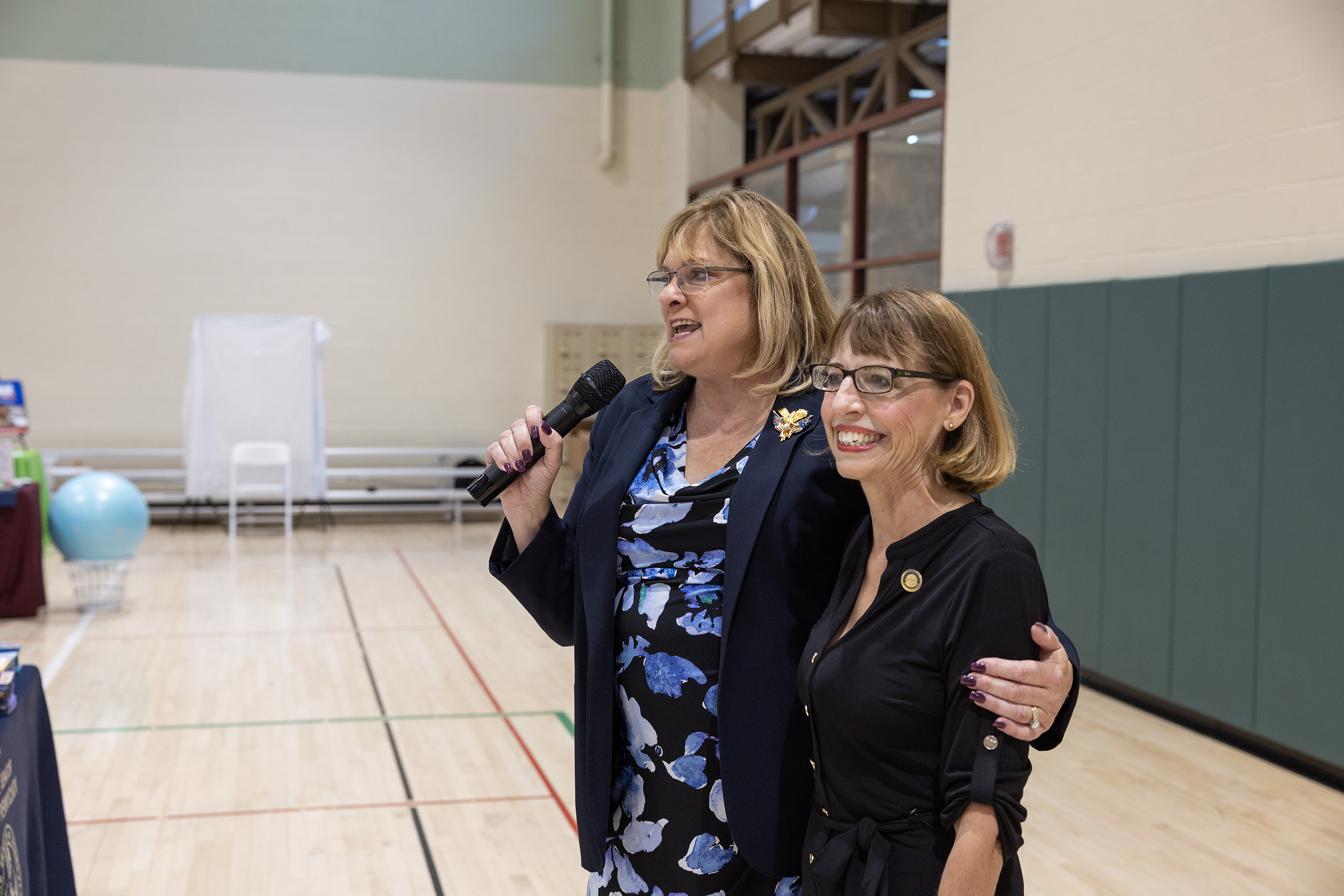 Recently, State Representative Milou Mackenzie and I hosted a Senior Expo at the Upper Perk YMCA. Our main focus for this event was to connect our local seniors and caregivers to healthcare providers and valuable resources that addressed their needs and those of their loved ones. We were able to host and interact with over 300 seniors! I am so thrilled we were able to do this for our deserving seniors and I can't wait to host many more in the future!
FREE License Plate Replacement Event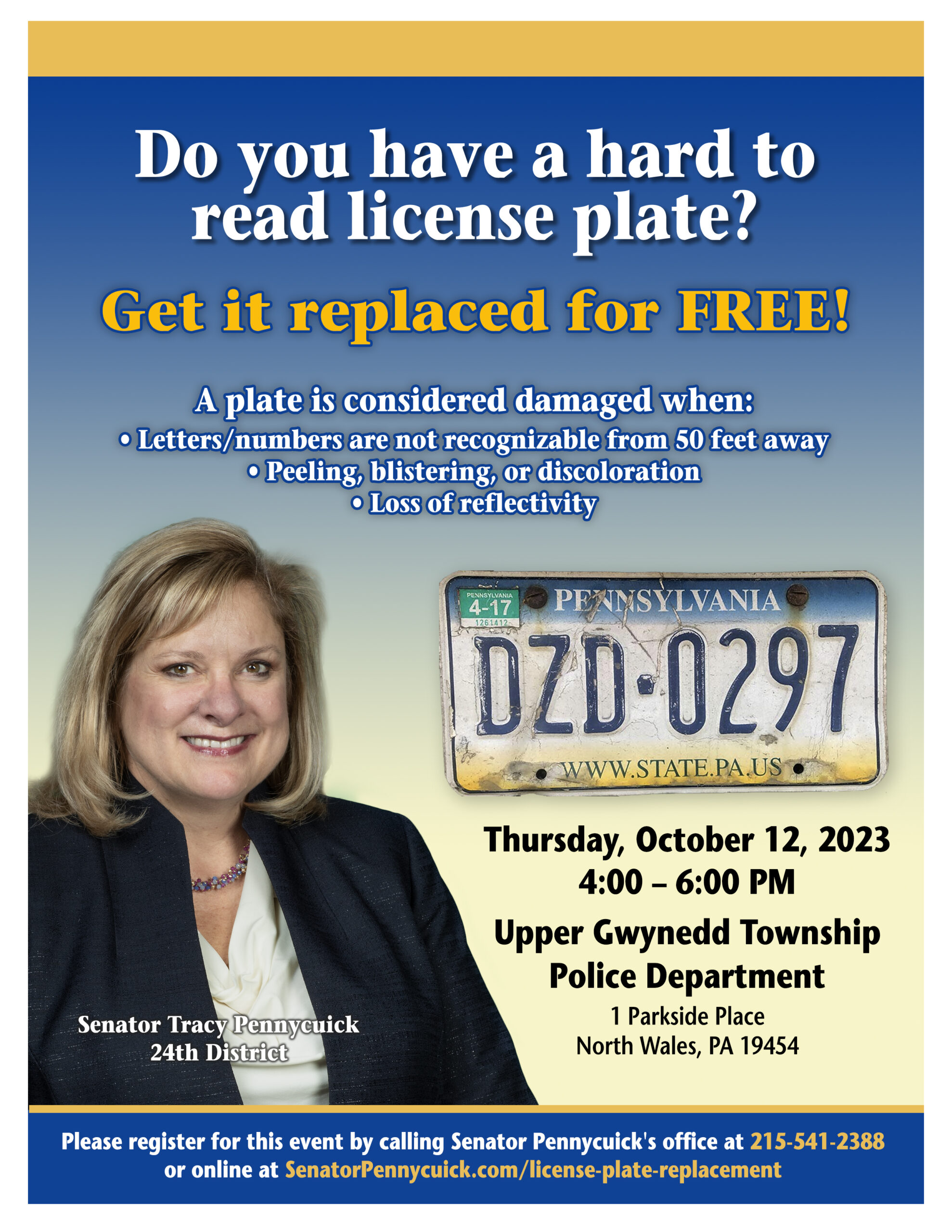 I will be hosting a License Plate Replacement event on Thursday, October 12 from 4:00pm to 6:00pm at Upper Gwynedd Township Police Department. Need a new license plate? Register NOW!
Teletown Hall Meeting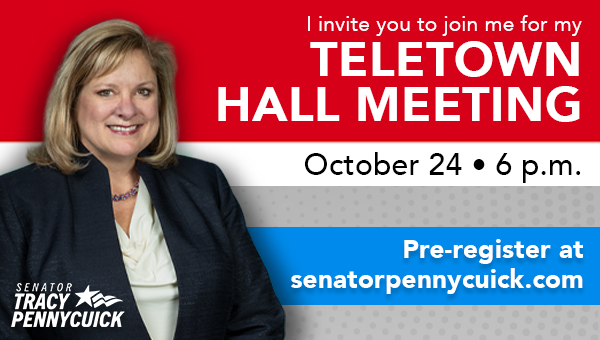 Please join me for my upcoming Tele-Town Hall meeting on Tuesday, October 24 at 6:00pm.
This is a great opportunity to discuss state-related issues and voice your opinions on public issues right from the comfort of your own home.
I look forward to connecting with you!
Mobile Office Hours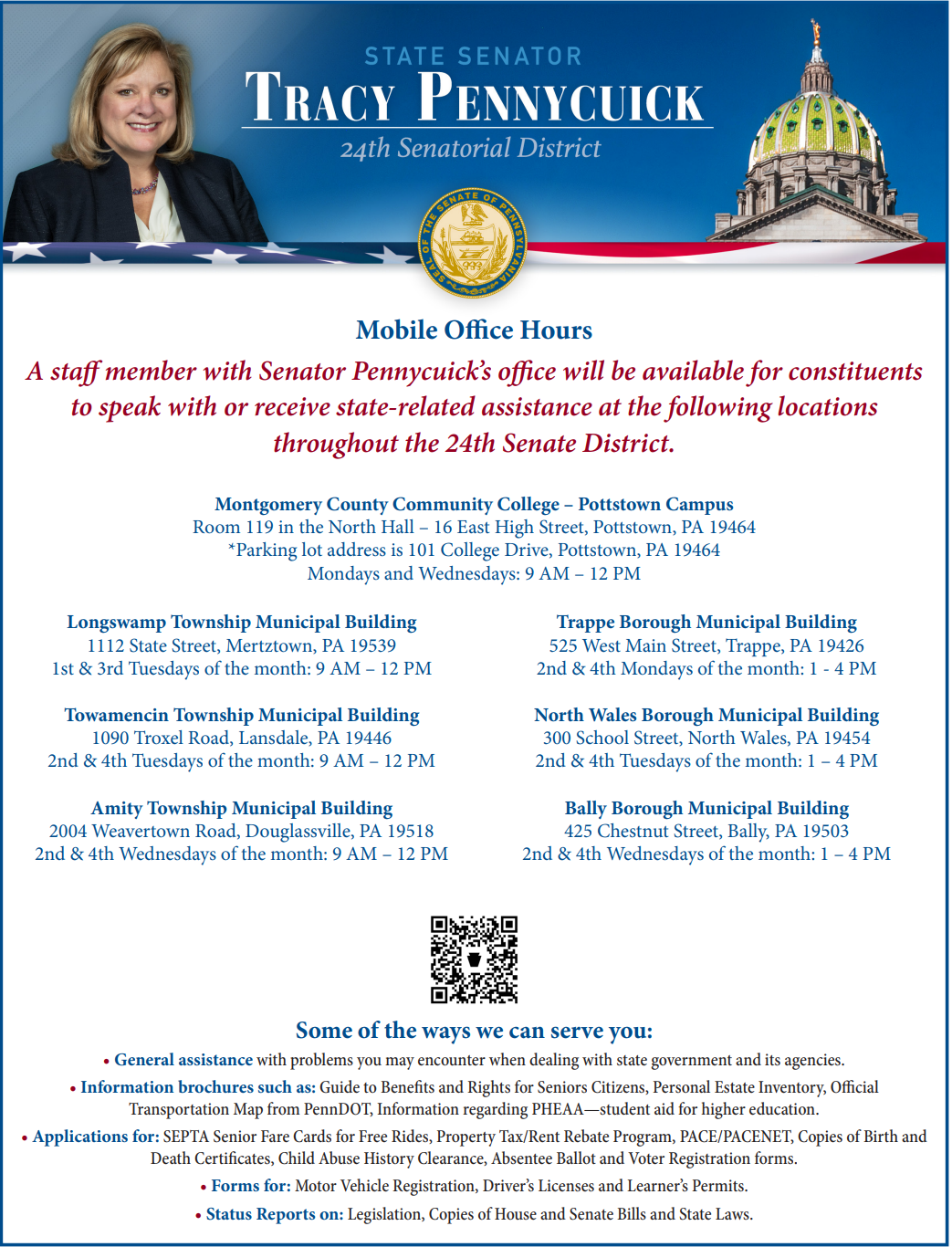 FEMA and FCC Plan Nationwide Emergency Alert Test for Oct. 4, 2023
Test Messages Will be Sent to All TVs, Radios and Cell Phones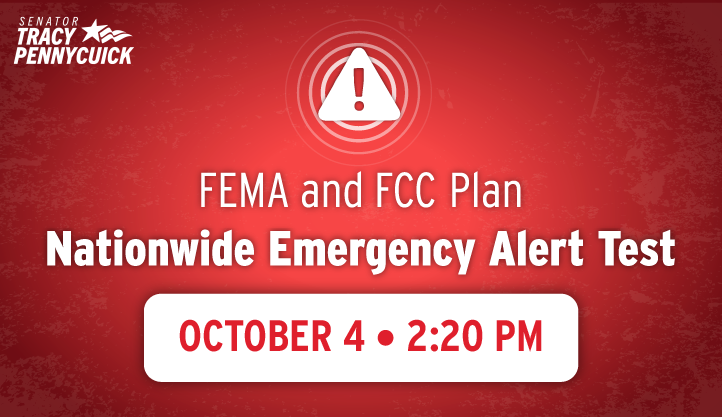 FEMA, in coordination with the Federal Communications Commission (FCC), will conduct a nationwide test of the Emergency Alert System (EAS) and Wireless Emergency Alerts (WEA) this fall. The national test will consist of two portions, testing WEA and EAS capabilities. Both tests are scheduled to begin at approximately 2:20 p.m. ET on Wednesday, Oct. 4.
The WEA portion of the test will be directed to all consumer cell phones. This will be the third nationwide test, but the second test to all cellular devices. The test message will display in either English or in Spanish, depending on the language settings of the wireless handset.
The EAS portion of the test will be sent to radios and televisions. This will be the seventh nationwide EAS test. FEMA and the FCC are coordinating with EAS participants, wireless providers, emergency managers and other stakeholders in preparation for this national test to minimize confusion and to maximize the public safety value of the test.
The purpose of the Oct. 4 test is to ensure that the systems continue to be effective means of warning the public about emergencies, particularly those on the national level. In case the Oct. 4 test is postponed due to widespread severe weather or other significant events, the back-up testing date is Oct. 11.
The WEA portion of the test will be initiated using FEMA's Integrated Public Alert and Warning System (IPAWS), a centralized internet-based system administered by FEMA that enables authorities to send authenticated emergency messages to the public through multiple communications networks. The WEA test will be administered via a code sent to cell phones.
This year the EAS message will be disseminated as a Common Alerting Protocol (CAP) message via the Integrated Public Alert and Warning System-Open Platform for Emergency Networks (IPAWS-OPEN).
All wireless phones should receive the message only once. The following can be expected from the nationwide WEA test:
Beginning at approximately 2:20 p.m. ET, cell towers will broadcast the test for approximately 30 minutes. During this time, WEA-compatible wireless phones that are switched on, within range of an active cell tower, and whose wireless provider participates in WEA, should be capable of receiving the test message.
For consumers, the message that appears on their phones will read: "THIS IS A TEST of the National Wireless Emergency Alert System. No action is needed."
Phones with the main menu set to Spanish will display: "ESTA ES UNA PRUEBA del Sistema Nacional de Alerta de Emergencia. No se necesita acción."
WEA alerts are created and sent by authorized federal, state, local, tribal and territorial government agencies through IPAWS to participating wireless providers, which deliver the alerts to compatible handsets in geo-targeted areas. To help ensure that these alerts are accessible to the entire public, including people with disabilities, the alerts are accompanied by a unique tone and vibration.
Important information about the EAS test:
The EAS portion of the test is scheduled to last approximately one minute and will be conducted with the participation of radio and television broadcasters, cable systems, satellite radio and television providers and wireline video providers.
The test message will be similar to the regular monthly EAS test messages with which the public is familiar. It will state: "This is a nationwide test of the Emergency Alert System, issued by the Federal Emergency Management Agency, covering the United States from 14:20 to 14:50 hours ET. This is only a test. No action is required by the public.
Stronger Rainy Day Fund Improves PA's Financial Position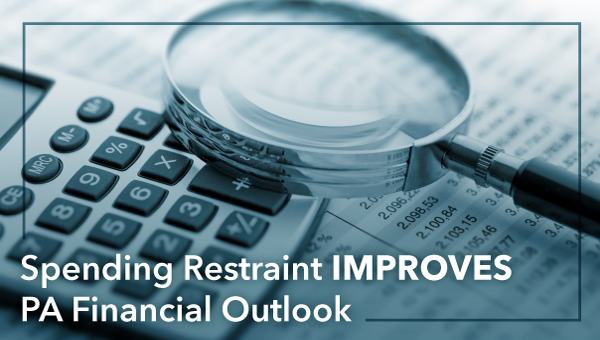 Moody's Investor Services has affirmed Pennsylvania's current bond rating and revised the state's financial outlook from stable to positive.
As part of its decision to upgrade the commonwealth's status, Moody's commended the amount of money in the state's Rainy Day Fund. Bolstering our financial safety net has been a top priority in the past three years, and it is encouraging to see those efforts translate to real results.
Because of hard decisions made by Senate Republicans to resist the urge to spend billions and instead embrace smarter budgeting approaches, Pennsylvania's financial position has improved.
Revenue Collections Below Monthly Estimate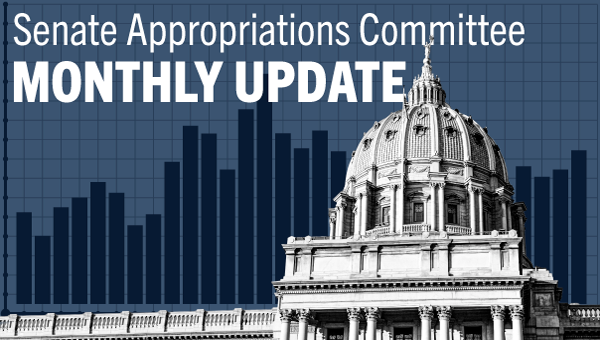 Each month, the Senate Appropriations Committee prepares an update about the state's financial health. The most recent report shows that General Fund revenue collections of $2.9 billion in August were below the monthly estimate by $27.1 million, or 0.9%.
The Shapiro Administration recently approved collective bargaining agreements with the state's major labor unions that are projected to cost taxpayers $3.2 billion during the next four years.
The full update, including the monthly revenue report, is available here.
Preparing for Election Day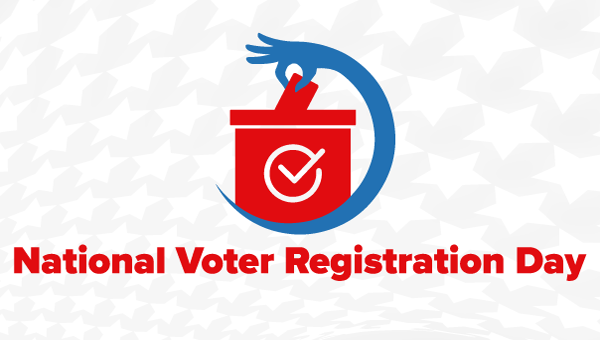 In honor of National Voter Registration Day, it's a great time to prepare for Election Day on Nov. 7. The deadline to register to vote is Oct. 23. If you've moved, you can also double check that you're registered to vote at your current address.
Anyone who wishes to vote by mail must apply by Oct. 31. You have to be a registered voter to submit an application.
If you are looking for a way to help your community, learn more about becoming a poll worker here. Thousands of Pennsylvanians are necessary to run elections, and poll workers are needed in all 67 counties.
Free Support Available to Military Members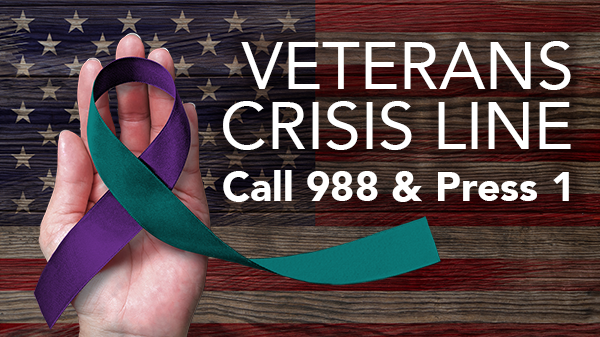 As a reminder for Suicide Prevention Month, veterans in crisis can call the toll-free Veterans Crisis Line. It serves veterans, service members, National Guard and Reserve members, and those who support them.
A caring, qualified responder is available to provide confidential support and connect callers with resources 24/7, 365 days a year.
Call 988 and then press 1 or chat online.
Fire, Ambulance Companies: Apply Now for State Grants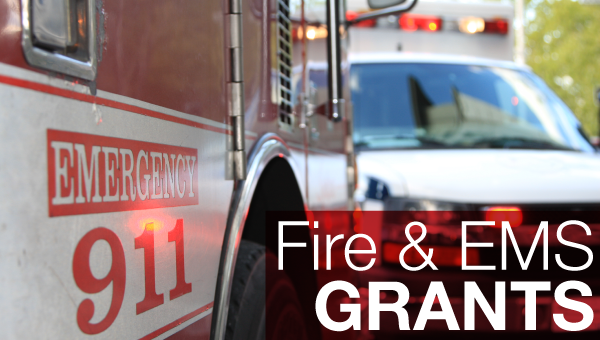 Fire companies and ambulance services throughout Pennsylvania are encouraged to submit an application for the 2023-24 Fire Company and Emergency Medical Service Grant Program.
Grants may be used for construction or renovation of a unit's station, the purchase or repair of equipment, training or debt reduction. The maximum grant amount is $20,000 for fire companies and $15,000 for volunteer ambulance services – increased this year because of legislation supported by Senate Republicans.
Find more information and apply online here by Oct. 20 at 4 p.m.

If you are not already subscribed to this newsletter please sign up here.