In this Update:
Should Armed Security Be Required to Protect Children at School?
Veterans Appreciation Breakfast
Pennycuick Measure Incentivizes Employing PA Guard Members, Boosts Guard Recruitment and Retention
Enlightening senatorial tour leaves nothing 'up in the air'
Financial Aid Webinar
$900 Million Moved to PA's Rainy Day Fund
Are You Owed Unclaimed Property?
Medicare Beneficiaries: Get Free Health Benefits Counseling
Recognizing Outstanding Pennsylvania Educators
Heating Assistance Program Open Now
Slow Down, Stay Alert for Deer
---
Should Armed Security Be Required to Protect Children at School?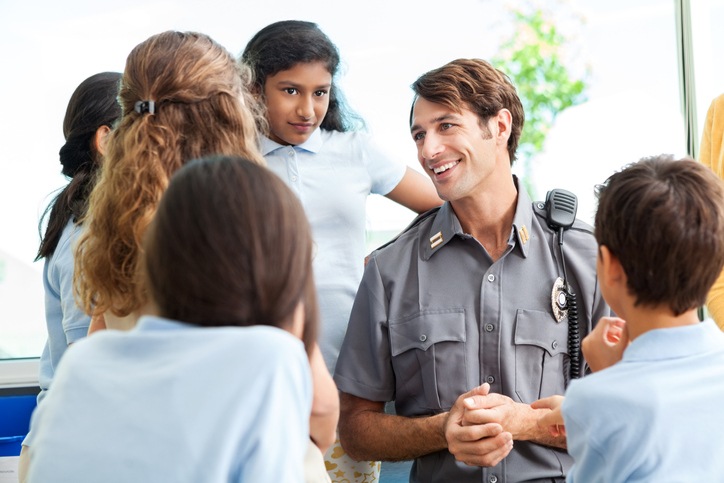 The Senate Education Committee voted to advance Senator Mike Regan's bill to require an armed security officer in all public schools. Since Sandy Hook, there have been more than 200 shootings resulting in fatalities at K-12 schools across the country. A poll published by Franklin & Marshall found that 69% of registered voters in Pennsylvania support taking this action to better protect children.
I want to know what you think on the issue. Do you support a state requirement for school districts to have security officers to protect children while at school?
Take my survey here.
Veterans Appreciation Breakfast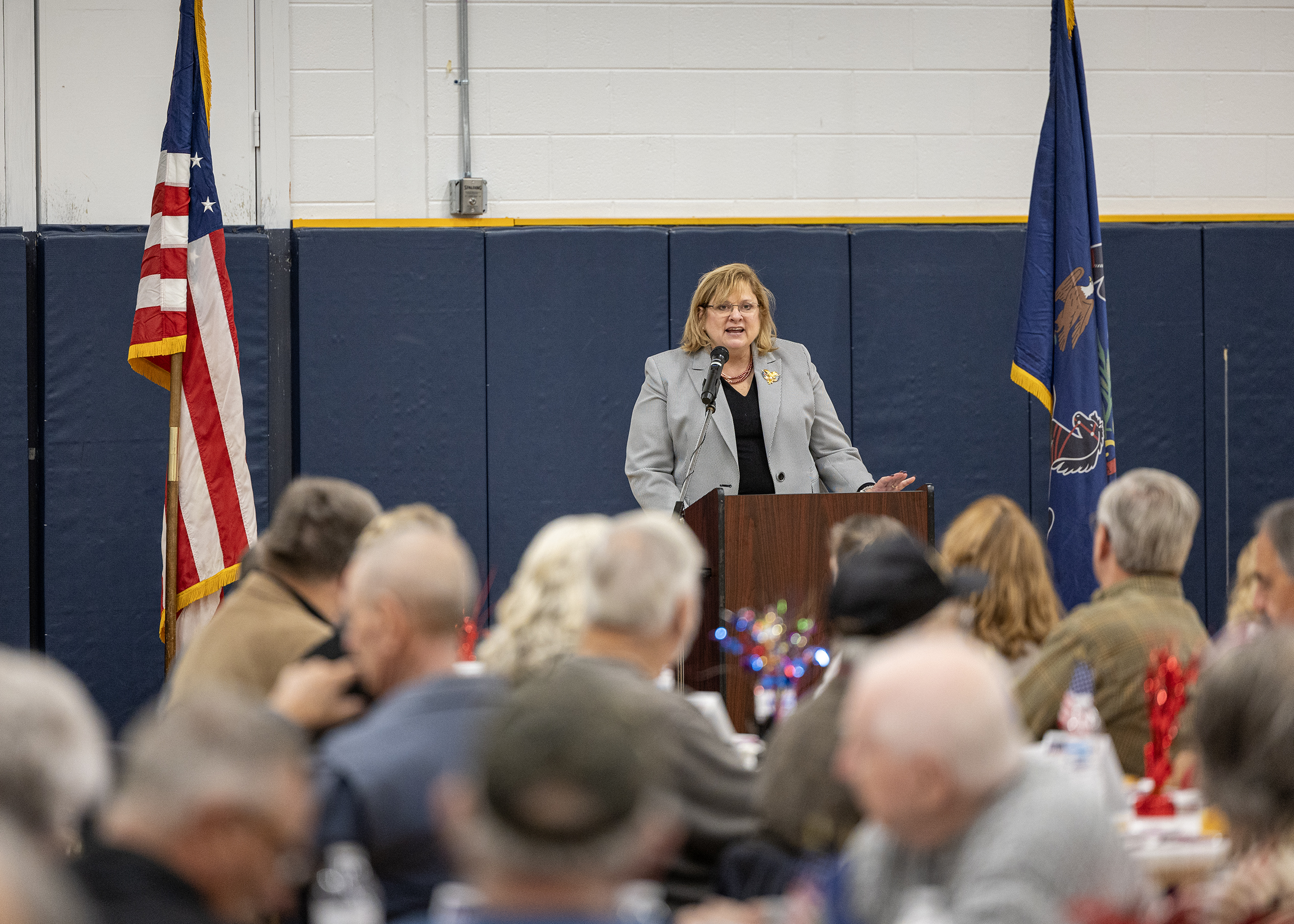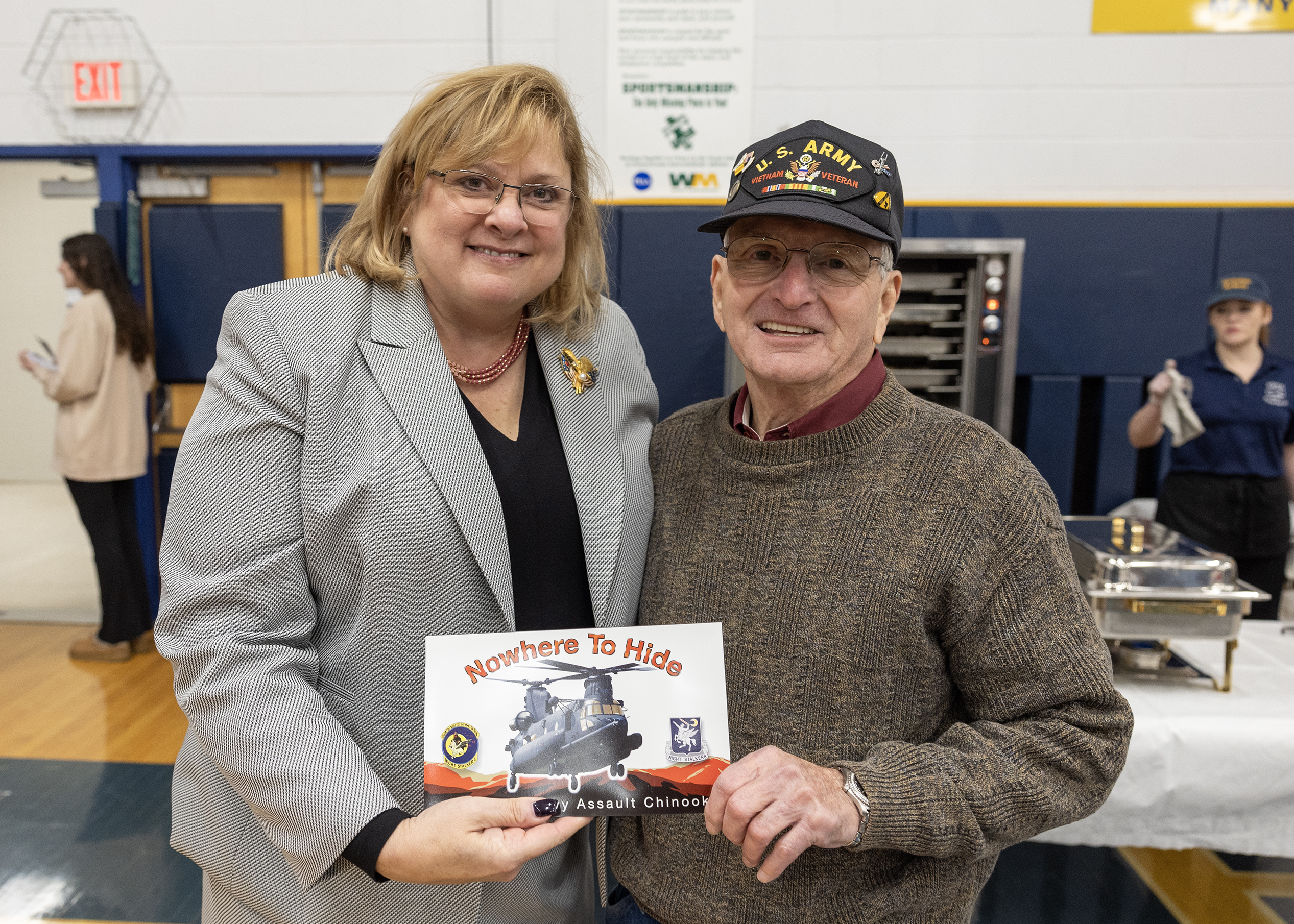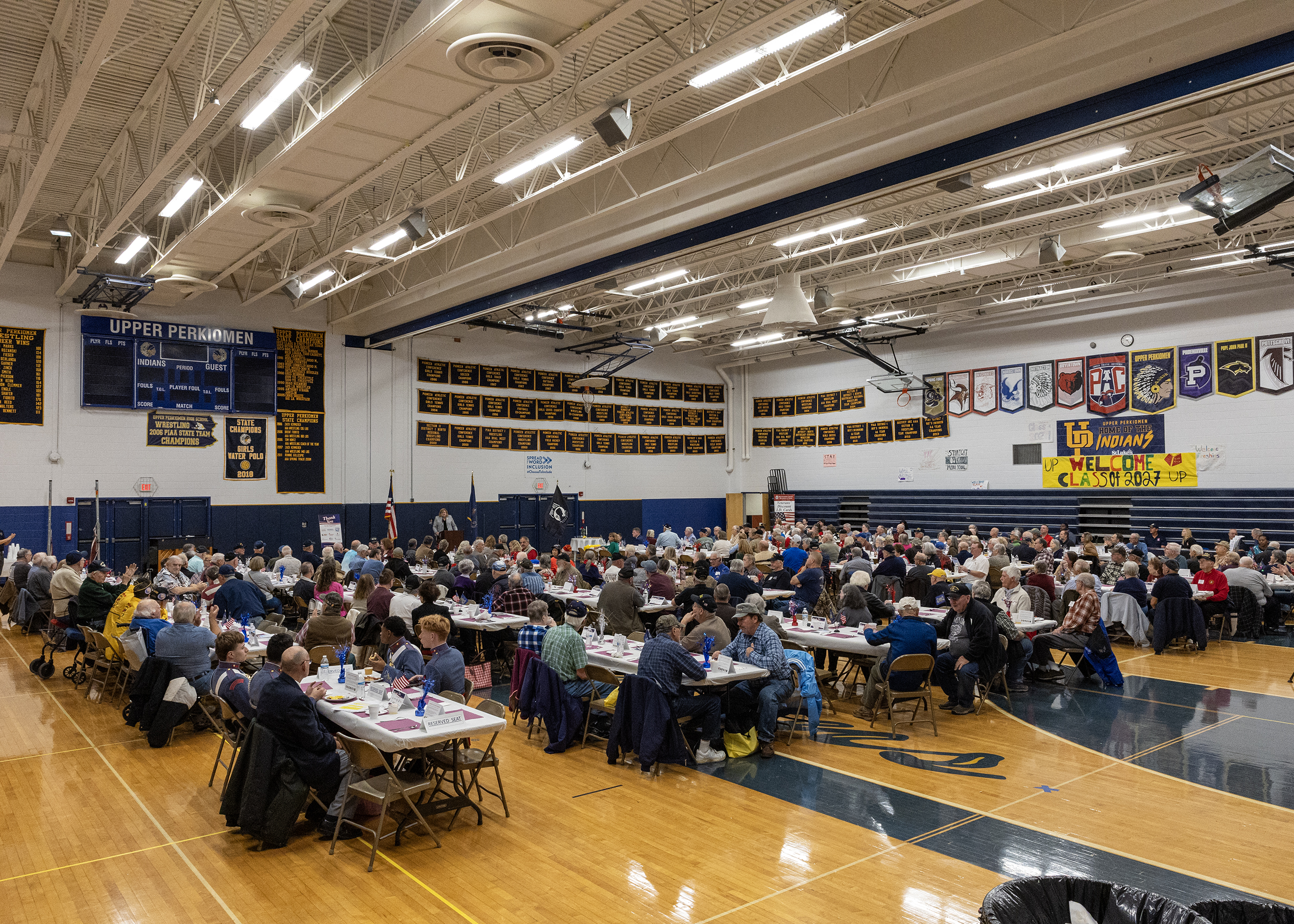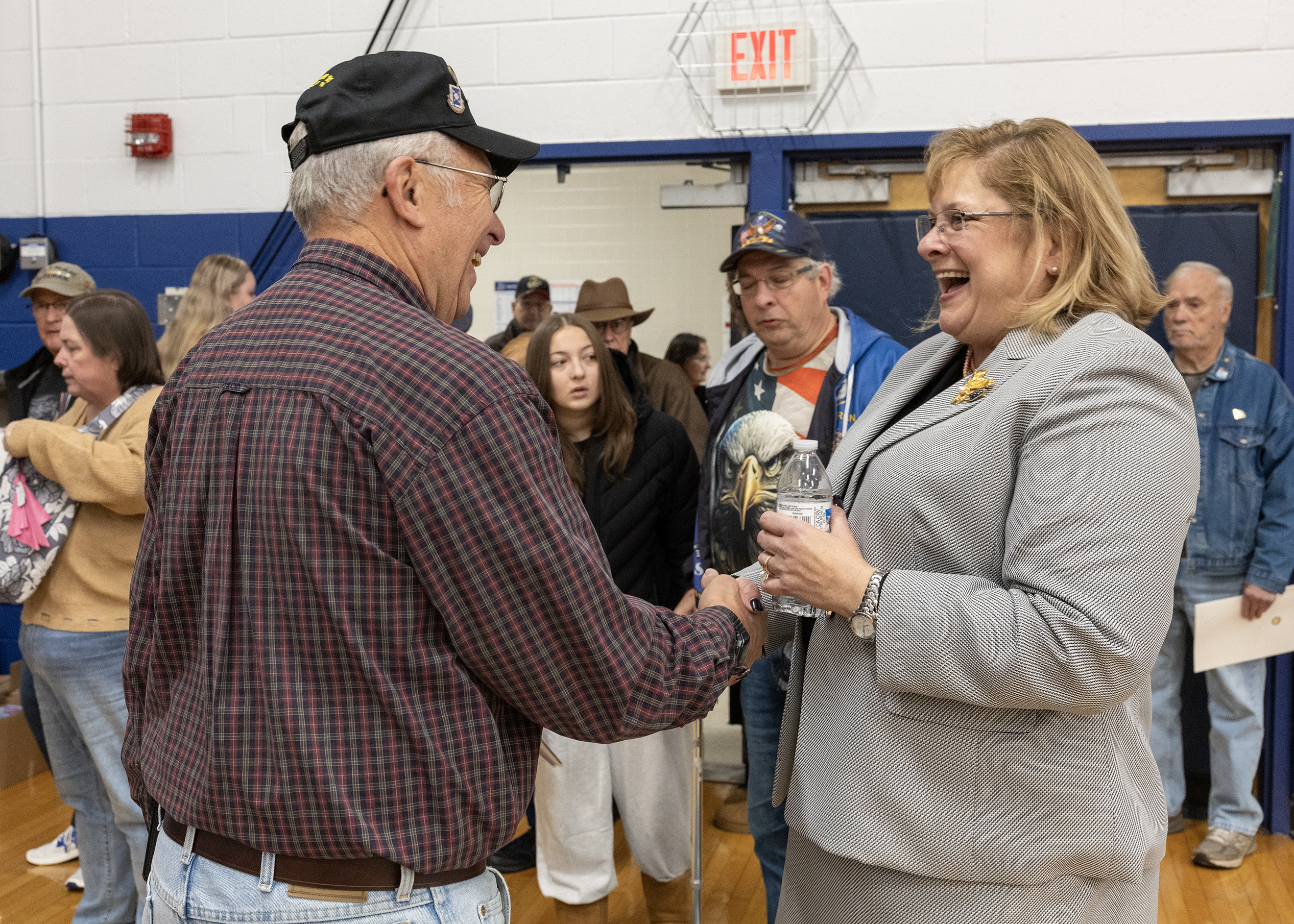 We can never truly thank our veterans enough for their service to our country and community. This event is a small token of gratitude that carries a big message: we wouldn't be the nation we are without our veterans. I am pleased so many of our veterans were able to participate and be recognized for their heroic acts.
Veterans Appreciation Breakfast
Pennycuick Measure Incentivizes Employing PA Guard Members, Boosts Guard Recruitment and Retention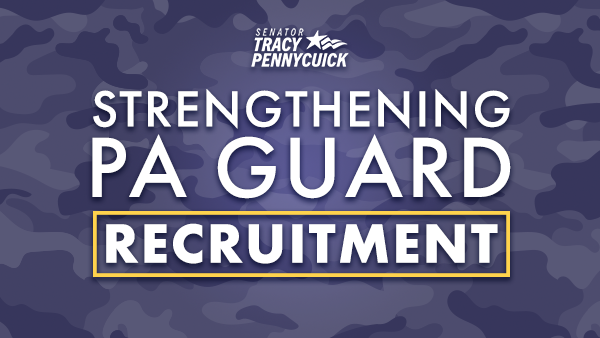 I recently introduced legislation providing an incentive for employers to hire Pennsylvania National Guard members and strengthening Guard recruitment and retention efforts.
Senate Bill 985 would establish the Pennsylvania National Guard Employer Tax Credit Program.
The Pennsylvania National Guard is recognized as one of the finest national guards in the nation, and it's largely made up of part-time members who work full-time jobs. Giving employers an incentive to hire Guard members boosts access to workers with unique skill sets and makes serving in the Guard more attractive to Pennsylvanians.
Recruitment and retention numbers for the Guard has dipped in previous years presenting a manpower challenge as the Guard works to remain mission ready for their dual state and federal responsibilities. Since most guardsmen serve "part time," a key consideration for these dedicated and skilled individuals is obtaining full-time employment while they serve.
Under the legislation, a $1,000 tax credit would be available if a business hires an active member of the Pennsylvania Guard or if a current employee enlists or re-enlists in the Guard. The tax credit can be used to offset income tax or corporate net income tax liabilities.
By incentivizing the hiring and retention of our Guard members, we can help maintain recruitment and ensure the Guard has the manpower necessary to meet future challenges.
The Pennsylvania National Guard traces its founding to 1747 as the Associators in Philadelphia, under the direction of Ben Franklin. The Pennsylvania National Guard has both a state and a federal mission. Its state mission is to protect life and property, maintain peace and order and provide civil defense, while supporting national missions throughout the world. They support numerous partnerships, including domestic commitments with various local, state and federal agencies.
Enlightening senatorial tour leaves nothing 'up in the air'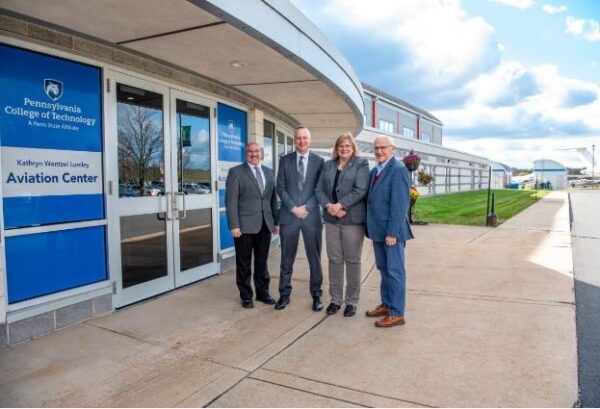 Financial Aid Webinar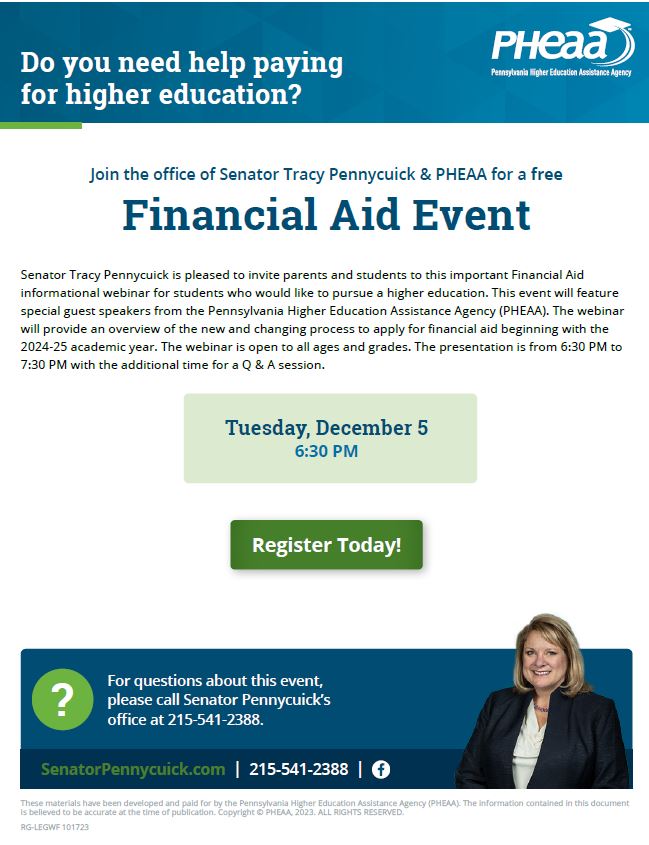 $900 Million Moved to PA's Rainy Day Fund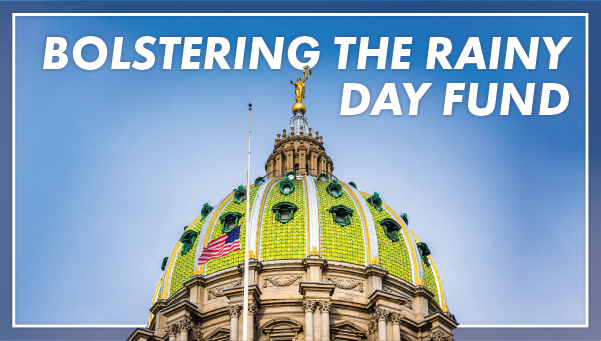 Thanks to the disciplined spending of Senate and House Republicans, nearly $900 million was transferred to Pennsylvania's Rainy Day Fund. The transfer was the third-largest in the state's history.
The fund, which exceeds $6.1 billion, provides protection from economic downturns and other unforeseen circumstances. It shields Pennsylvanians from being subjected to a tax increase at a time they would already be struggling financially.
Having a healthy Rainy Day Fund has also improved the state's rating with the nation's major credit rating bureaus. Moody's Financial Services and S&P Global Ratings both affirmed the commonwealth's bond rating and revised the state's long-term outlook from stable to positive in September.
Are You Owed Unclaimed Property?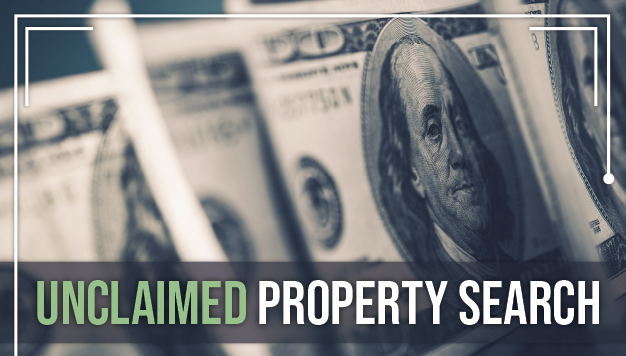 The Pennsylvania Treasury Department is currently holding more than $4.5 billion in unclaimed property, with about one in 10 residents eligible to recoup that property.
Unclaimed property includes dormant bank accounts, uncashed checks, insurance policies and contents of forgotten safe deposit boxes. The amounts can range from a few dollars to a few thousand dollars, with the average value of a claim being about $1,600.
To find out if you or a member of your family is entitled to unclaimed property, please visit www.patreasury.gov. Unclaimed property can now be returned via direct deposit, and the process can be further expedited if the claimant provides their Social Security number when filing a claim. Because all property will be returned free of charge, there is no need to pay a private service to submit a claim.
Medicare Beneficiaries: Get Free Health Benefits Counseling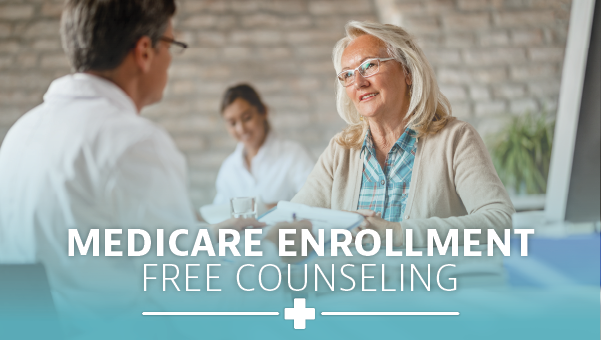 The open enrollment period for Medicare beneficiaries is active now until Dec. 7. Any new coverage selected or changes to existing benefits will take effect Jan. 1, 2024.
During open enrollment, new Medicare beneficiaries can sign up for Medicare Prescription Drug Coverage and health plans to complement Medicare, and current Medicare beneficiaries can review and join, switch or drop Medicare Advantage or Prescription Drug Coverage so that it better meets their needs.
To help Medicare beneficiaries understand their options, the Pennsylvania Department of Aging offers free, objective health benefits counseling through Pennsylvania Medicare Education and Decision Insight (PA MEDI). Available at Pennsylvania's 52 Area Agencies on Aging, PA MEDI counselors can assist Medicare beneficiaries with plan comparisons, help with enrollment in a new plan and evaluate eligibility for any of Pennsylvania's Medicare cost-savings programs. Learn more here.
Recognizing Outstanding Pennsylvania Educators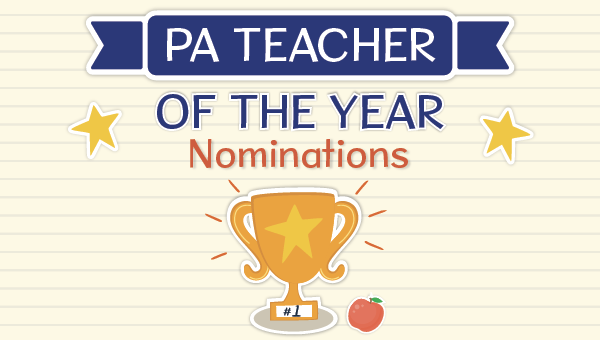 Pennsylvanians are encouraged to nominate their favorite teacher to be the commonwealth's 2025 Teacher of the Year by Friday, Dec. 15. The Teacher of the Year Program celebrates excellence in teaching and honors individuals who have made outstanding contributions to the young people of Pennsylvania.
The state's 2025 Teacher of the Year will be announced at an awards ceremony in early December 2024 and will represent the commonwealth at various local, regional and national functions culminating in the National Teacher of the Year ceremony at the White House.
Nominate your favorite teacher here.
Heating Assistance Program Open Now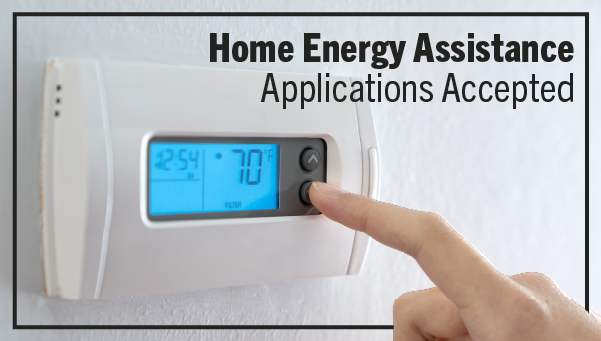 Residents struggling with their home heating bills may apply for assistance from the Low-Income Home Energy Assistance Program (LIHEAP).
LIHEAP is a federally funded program that helps individuals and families pay their heating bills through home heating energy assistance grants. It also provides crisis grants to help in the event of an emergency or if a resident is in danger of losing his or her heat due to broken equipment, lack of fuel or termination of utility service.
The income eligibility guidelines for LIHEAP are $21,870 for an individual, $29,580 for a couple and $45,000 for a family of four. Find limits for other family sizes here. Residents may apply for LIHEAP online or by contacting their local county assistance office.
Slow Down, Stay Alert for Deer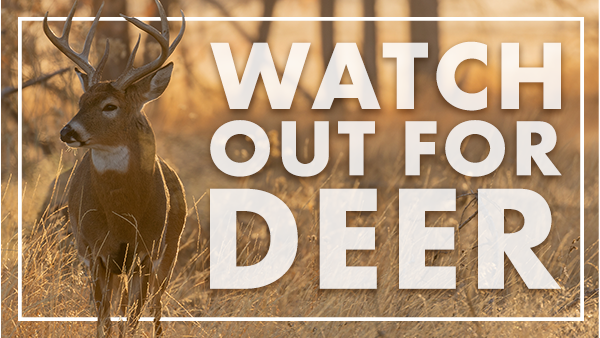 As the fall breeding season for deer is in full swing, it is more important than ever to slow down and remain alert for activity. This is particularly important in the commonwealth as Pennsylvania drivers unfortunately face one of the highest rates nationwide of a vehicular accident involving a big game animal, like deer: a 1-in-59 chance.
Drivers can reduce their chance of collisions with deer – and the associated injuries and property damage – by staying alert and better understanding deer behavior. Deer often travel in groups and walk in single file. If one deer crossed the road in front of a driver, another could be right behind it.
A driver who hits a deer with a vehicle is only required to report the accident to the Game Commission within 24 hours if the deer dies and the Pennsylvania resident wishes to keep the carcass. To do so, they can call 1-833-742-4868 or 1-833-742-9453. An agency dispatcher will collect the information needed to provide a free permit number. To report a dead deer for removal from state roads, motorists can call the Pennsylvania Department of Transportation at 1-800-349-7623.

If you are not already subscribed to this newsletter please sign up here.