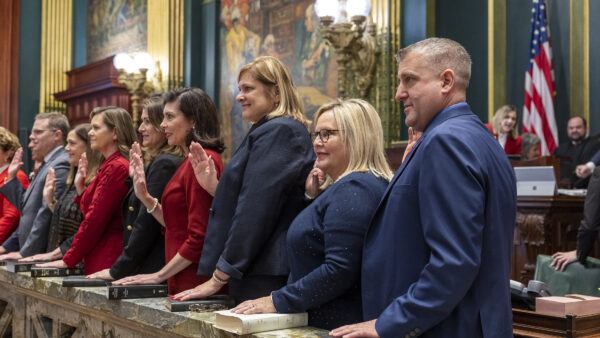 HARRISBURG – Sen. Tracy Pennycuick took the oath of office yesterday (Jan. 3) to represent the citizens of the 24th District in the Pennsylvania Senate.
Pennycuick was elected by voters in November to represent the newly drawn district, which covers eastern Berks County and northern Montgomery County. She previously served in the House of Representatives.
"It's a tremendous honor to represent the citizens of Berks and Montgomery counties in the Senate and I look forward to being their voice on issues that matter to them," Pennycuick said. "The new session promises to be a busy two years, and I'm ready to get to work advancing legislation that benefits Pennsylvania taxpayers and families."
Building a strong and diverse Pennsylvania economy, ensuring that every child has access to an education that meets their individual needs, and advancing measures that provides veterans with the benefits and care they deserve are some of the top priorities Pennycuick lists for the upcoming legislative session.
Pennycuick is a United States Army combat veteran and helicopter pilot, having served three combat tours in Iraq, Afghanistan and Desert Storm, earning the rank of Lieutenant Colonel. Following her military service, she served as the Director of Montgomery County Veterans Affairs and operated an aviation services company, employing 17 people.
She lives in Harleysville with her husband, Rick. They have four adult children and two grandchildren. For more information, please visit her website at www.senatorpennycuick.com.
Video of Swearing-In Ceremony.
CONTACT: Lidia Di Fiore ldifiore@pasen.gov (215) 541-2388