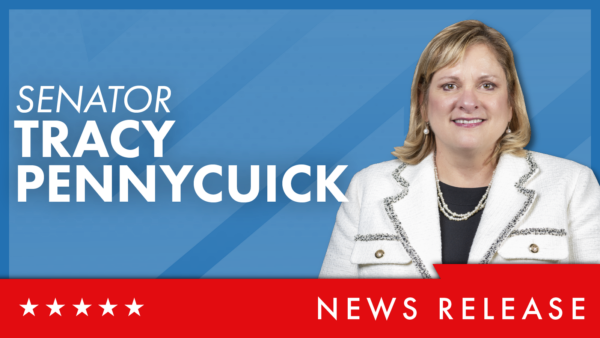 HARRISBURG, PA – State Sen. Tracy Pennycuick (R-24), who took the oath of office on Tuesday (January 3) in Harrisburg to begin her first term in the state Senate, announced she has been tapped to serve as majority chair of the Senate Communications and Technology Committee.
"Since the earliest days of our Commonwealth, the foundation of the Pennsylvanian economy has been built upon staying on the cutting edge of technological advancements and ensuring efficient and accessible communication networks," Senator Pennycuick said. "Now, more than ever, our economy and our residents rely upon these systems in almost every facet of their lives, from employment to educating our children. I am honored to have been selected to lead this committee, and I look forward to working with my co-chair, Senator Dillon, and Vice Chair Phillips-Hill in expanding access to world-class broadband and 5g networks while ensuring protection of personal information.
This forward-looking Committee is designed to keep Pennsylvania at the forefront of communications and related technologies through the review and consideration of legislation to improve access to high-speed internet services across the entire Commonwealth. It also considers ways to improve and make more efficient the state's information technology policies, practices and procedures.
Pennycuick will also serve in a leadership capacity on the Senate Veterans Affairs and Emergency Preparedness Committee, in the role of vice chair. The committee oversees a broad range of issues affecting firefighters, emergency medical services (EMS) personnel, emergency management officials, members of the active military and veterans.
"As a proud veteran, I am honored to serve on the Veterans Affairs and Emergency Preparedness Committee, giving our brave men and women another voice in Harrisburg," Senator Pennycuick said. "I look forward to advancing a wide range of issues that will impact those who have or are currently serving our nation, whether in our country's armed forces or emergency services."
Additionally, Pennycuick will serve on the powerful Senate Appropriations Committee, charged with crafting and negotiating the state's budget and evaluating bills based on their fiscal impact on the Commonwealth. This committee plays a central role in ensuring that tax dollars are spent wisely and effectively.
Pennycuick also was appointed to serve on the Senate Aging and Youth Committee, Consumer Protection and Professional Licensure Committee, Finance Committee and Judiciary Committee.
The Senate Aging and Youth Committee reviews legislation that would affect programs and services for senior citizens and younger Pennsylvanians. It also oversees the Pennsylvania Department of Aging.
The Consumer Protection and Professional Licensure Committee works to protect the health and safety of the public by reviewing legislation, rules and regulations pertaining to consumer affairs, regulated public utility services, and the 29 professional and occupational licensing boards in Pennsylvania. The committee also oversees numerous state boards, authorities and commissions designed to uphold standards of professional conduct.
The Senate Finance Committee reviews legislation that would implement tax increases or cuts. The committee oversees the Pennsylvania Department of Revenue, Pennsylvania Department of Treasury, Pennsylvania Auditor General and the state's retirement boards.
The Senate Judiciary Committee handles a wide range of issues pertaining to Pennsylvania's criminal justice system. The committee reviews bills designed to increase justice, fairness and the protection of fundamental rights. The committee works closely with the Pennsylvania Attorney General's Office, Office of Victim Advocate, Pennsylvania Department of Corrections, Board of Pardons, Pennsylvania Parole Board, Pennsylvania Commission on Sentencing, and the Pennsylvania Commission on Crime and Delinquency.
Residents can learn more about Pennycuick by visiting her website at www.SenatorPennycuick.com.
CONTACT: Lidia Di Fiore ldifiore@pasen.gov (215) 541-2388