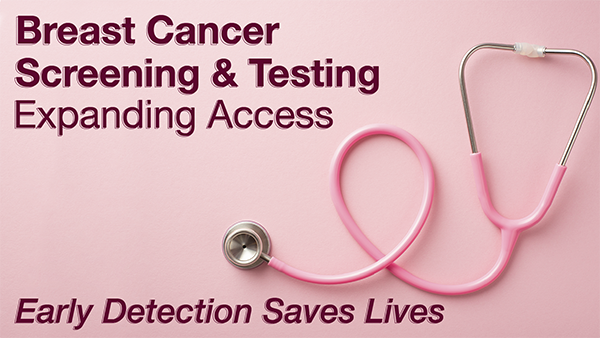 Senate Bill 8 improves coverage of necessary BRCA testing and screening for high-risk Pennsylvanians.
HARRISBURG – The Pennsylvania Senate today unanimously passed Senate Bill 8, a first-of-its-kind in the nation comprehensive breast cancer screening bill sponsored by Senate President Pro Tempore Kim Ward (R-39), Senator Devlin Robinson (R-37) and Senator Tracy Pennycuick (R-24).
"We know that Senate Bill 8 will save lives and I am proud to partner with Sens. Robinson and Pennycuick on this bill that will benefit thousands in our state and future generations to come," said Ward. "I know first-hand the importance of genetic testing and supplemental screenings. In fact, had more testing and screening options been covered by insurance when I was diagnosed, my breast cancer may have been caught sooner or I may have considered a different treatment option."
This historic bill eliminates out-of-pocket costs associated with BRCA-related genetic testing and counseling as well as supplemental screening such as breast MRI and ultrasound for women at high-risk. High-risk conditions covered by the bill include, dense breast tissue, personal history of breast cancer, family history of breast cancer, genetic predisposition and prior radiation therapy.
"I'm so encouraged the entire Senate body, Republicans and Democrats, came together for Senate Bill 8 to rally behind those folks who could use it most," Robinson said. "This bill is personal to so many as we all have been affected by cancer in some way. Not having to worry about the price tag of BRCA screenings or MRIs is a huge weight lifted, and lives will be saved."
The legislation expands upon Act 52 of 2020, which, for the first time, required insurers to cover breast MRIs and ultrasounds for women with high-risk factors. Senate Bill 8 is step two, eliminating costs including co-pays, deductibles, or co-insurance for those screenings as well as BRCA-related genetic testing and counseling.
"Plain and simple, early detection saves lives," Pennycuick said. "By eliminating the cost barriers associated with cancer screenings and testing, more women will have the opportunity to receive these lifesaving procedures. I am proud to work with my colleagues, Sens. Ward and Robinson, to advance this important legislation."
Senate Bill 8 now goes to the House of Representatives for consideration.
CONTACT: Erica Clayton Wright, 412-334-4856 (Senator Ward)
Allison Dutrey, 717-787-5839 (Senator Robinson)
Matthew Szuchyt, 717-787-3110 (Senator Pennycuick)