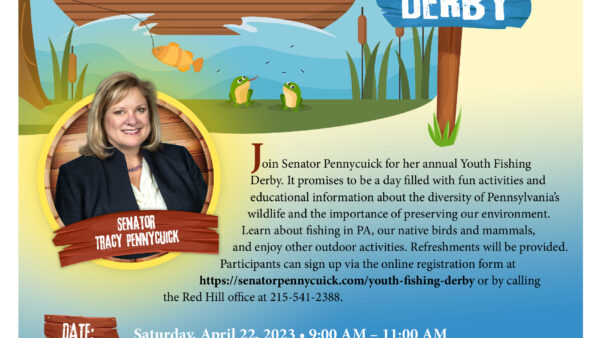 Senator Tracy Pennycuick (R-24) will be hosting her annual Youth Fishing Derby at Bergey Park this Saturday, April 22. Children ages 14 and under are invited to participate and enjoy a morning of fun while learning about Pennsylvania's diverse wildlife and the importance of preserving our natural environment. Prizes will be awarded for the most fish caught, largest fish, and smallest fish. Snacks, refreshments, and educational materials about Pennsylvania's diverse wildlife will be provided to attendees.
Where: Bergey Park, 675 Bergeys Mill Road, Schwenksville, PA 19473
When: April 22, 2023 from 9:00 A.M. – 11:00 A.M.
CONTACT: Lidia Di Fiore ldifiore@pasen.gov (215) 541-2388