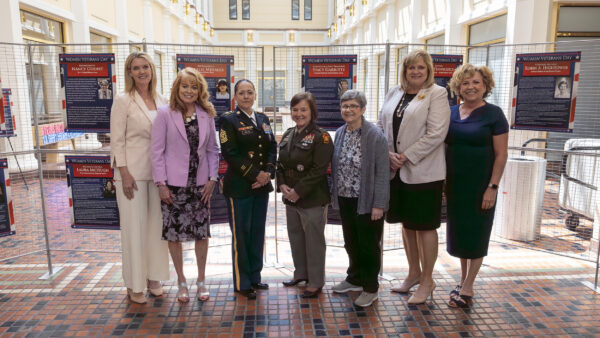 WATCH:Sen. Pennycuick's Remarks
Full Event
HARRISBURG –Sen. Tracy Pennycuick (R-24) unveiled a display at the state Capitol commemorating women veterans as Pennsylvania prepares to observe the first official Women Veterans Day on June 12.
The event in the East Wing Rotunda paid particular tribute to the heroic women of the Commonwealth who, after their time in the military, continued their commitment to serve in the state legislature and administration.
"Next Monday will mark the first time the Commonwealth will observe this important day since Act 129 of 2022 was signed into law," said Pennycuick. "As a U.S. Army combat veteran, I authored the legislation establishing June 12 as Women Veterans Day in Pennsylvania because I thought it was past time to recognize this burgeoning category of patriots."
While women have served in the American military since before the United States was established as a nation, it was not until 1948 that women were recognized as military members or veterans. Until then, only women nurses and secretaries received full veteran benefits.
President Truman signed the Women's Armed Services Integration Act on June 12, 1948, allowing women to serve as permanent, regular members of the Army, Marine Corps, Navy and Air Force.
By 2040 it is estimated that women will make up roughly 17% of the total veteran population.
"That's why I'm sponsoring bipartisan legislation to establish the Task Force on Women Veterans' Health Care in Pennsylvania," said Pennycuick. "The task force will study health issues facing women veterans and make recommendations to the governor and General Assembly for implementation."
The honorees today included PA Treasurer Stacy Garrity, former state Rep. Karen Beyer, Rep. Nancy Guenst, Rep. Natalie Mihalek, Adj. Gen. Jessica Wright (Retired), PA Civil Service Commissioner Pam Iovino, Brig. Gen. Laura McHugh, Brig. Gen. Maureen Weigl (Retired), Col. Robin Hightower (Retired) and Command Sgt. Maj. Shannon Cullen.
CONTACT: Lidia DiFiore