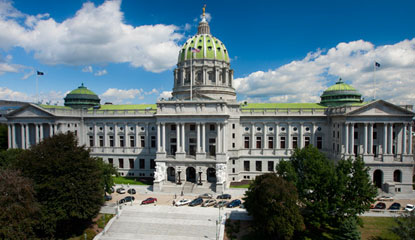 Once again, it's summer and Pennsylvania is without a new state budget. It's a story we hear all too often in our state's capital and I want to take the opportunity to explain why I am a firm supporter of the 2023-24 spending plan that passed the Senate in late June.
The $45.5 billion spending proposal that passed in both chambers has a lot to like. It contains no broad-based tax increases, fully funds state government's core-responsibilities and obligations and puts money away to prevent future tax increases. It is an expression of our priorities that puts Pennsylvania in a strong position.
The budget provided more funding to help law enforcement keep our communities safe, funds four new State Police cadet classes, and places State Police funding on a more stable footing by moving it from Transportation to the General Fund. This move will free up additional dollars to be devoted to our state's roads and bridges – nearly $500 million more by 2026.
Equally as important, $500 million was added to our state's Rainy-Day fund, which is crucial for funding vital services and preventing tax increases during economic downturns. It wasn't long ago that the Rainy-Day fund balance stood near zero, putting our state's financial future at risk.
But above all else, I firmly support this budget because of the significant new funding for schools. The budget includes more than $1 billion in new funding for public education, including historic levels for basic education, special education and early learning programs. It also contains significant new funds for career and technical institutes, which play an invaluable role in preparing young people for promising in-demand careers.
These investments build on the previous General Assembly increases for basic education, which increased by $1.05 billion over the last two fiscal years.
This budget puts Pennsylvanians first and was a product of robust negotiations with Gov. Josh Shapiro and included bipartisan compromises on both sides of the aisle on key priorities important to Republicans and Democrats.
Unfortunately, the agreed-upon budget passed by the Senate ran into opposition from special interest groups, which led to Gov. Shapiro announcing he would line item veto a key budget provision, one he highlighted in his campaign for governor.
That is the Pennsylvania Award for Student Success (PASS) program. This $100 million program, representing 0.2% of our budget, is designed to provide a lifeline for students trapped in Pennsylvania's worst performing schools. The program is simple: a student attending a school performing in the lowest 15% of achievement and living in a household 250% or below the federal poverty level ($75,000 for a family of four) can qualify for a scholarship to go to another better performing school.
The program levels the playing field and gives families the ability to decide what is best for their children. But best of all, it allows thousands of children to escape failing schools and the opportunity to obtain a high-quality education.
Most importantly, the program does not take a single dollar of state support away from public education.
Every day that passes is one less day a child in a failing district has to receive a high-quality education. It is time that we provide hope for these families.
This is a concept the Gov. Shapiro has repeatedly supported and was a central element of his campaign message to the people of Pennsylvania. Unfortunately, his reversal on this important educational program leaves the previously reached budget compromise in jeopardy.
House Democrats followed his lead and only passed the spending plan part of the budget, with the promise from the Governor that he would veto the PASS program.
The PASS program is worth fighting for because it has the potential to provide hope and lift children out of poverty, without impacting state funding for education.
I agree with the Governor when he said Senate Republicans must "give more than they're used to" and House Democrats cannot "expect to get everything they've wanted over the last decade in one budget." I believe the Senate Republicans have lived up to their side of this equation, having compromised and included many programs, such as indigent defense, whole home repair and level-up funding, important to Democrats.
It is my hope that Gov. Shapiro will change course and again support this pivotal program so that we can finish the 2023-24 budget. We have an obligation to ensure that this budget works for all Pennsylvanians, especially for those left behind in failing schools.
Sen. Tracy Pennycuick represents the 24th Senate District, which covers portions of Berks and Montgomery counties.
###
CONTACT: Matt Szuchyt, 215-541-2388