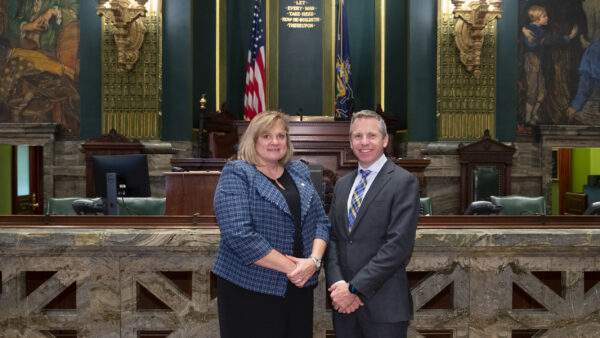 HARRISBURG – Sen. Tracy Pennycuick (R-24) welcomed Lead Pastor Kris Wint of Finland Mennonite Church (Pennsburg, Pa.) as the Senate Guest Chaplain. Pastor Wint and his fellow church members work hard to strengthen the community bonds within Montgomery County, by organizing sports camps, service trips, food drives, movie and game nights, and a variety of other events that serve to bring the residents of Pennsburg closer together.
In his free time, he enjoys spending time with his wife, Ginger, and four children: Chloe, Logan, Paige and Jace. The family often embarks on camping trips together, and this past summer completed an 88-mile hike through Shenandoah National Park.
This week he was joined by seven 10th grade students that are studying in the Challenge 2 Program of Classical Conversations. These students are Noah Kline, Ambry Williams, Julia Daniels, Kaden Shorb, Zack Zuch, Isaiah Smith, and his daughter Chloe Wint.
CONTACT: Lidia Di Fiore (215) 541-2388