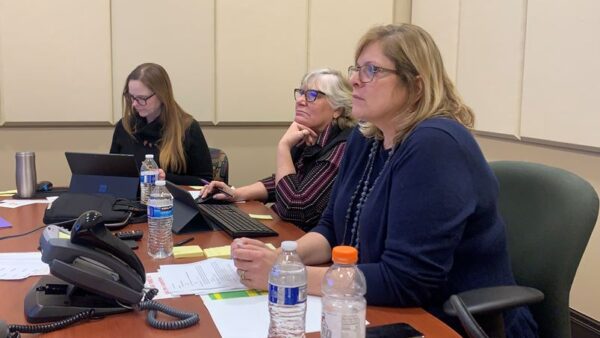 RED HILL – More than 6,000 area residents took part in a recent telephone town hall hosted by Sen. Tracy Pennycuick (R-24) to discuss state and community-related issues.
"It is invaluable to hear directly from the people I represent as I work to advance the issues that are important to them in both our local community and Harrisburg," Pennycuick said. "These are great opportunities to let constituents know on what is going on in their state government and the work that I am doing on their behalf. Thank you to all the residents who took time to join the call to discuss these issues and their viewpoints."
Pennycuick began the call by giving a report on the issues currently being debated in the state capitol and an update on several pieces of legislation she is working on to improve financial transparency in the education system, enhance veterans' benefits, and reform the local property tax system. Constituents had the opportunity to ask questions, which encompassed a variety of issues and challenges facing Pennsylvania, including affordable housing, veterans' benefits, and education funding.
The event March 28 included two survey questions. In response to the survey question, "Do you currently use TikTok?" 20% of participants said "yes" and 80% said "no."
The Senate Communications and Technology Committee, chaired by Pennycuick, recently approved legislation to protect the information of Pennsylvania state government, including citizen information, by prohibiting state-owned devices from downloading and using TikTok.
In response to the tele-town hall survey question, "Do you know someone who had or is currently battling breast cancer?" 70% said "yes" and 30% "no."
The Senate recently passed legislation co-sponsored by Pennycuick that eliminates out-of-pocket costs associated with genetic testing and counseling as well as supplemental screening for women at high risk of breast cancer. Pennycuick also sponsored a Senate resolution designating March "Triple-Negative Breast Cancer Awareness Month" in Pennsylvania, aiming to promote greater education and awareness for this aggressive form of breast cancer.
The Tele-Town Hall can be accessed here.
To receive updates on when the next Telephone Town Hall will be held, please sign up for Senator Pennycuick' s e-newsletter on her website: www.senatorpennycuick.com
CONTACT: Lidia Di Fiore ldifiore@pasen.gov (215) 541-2388